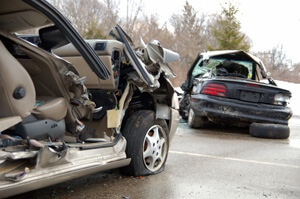 Accident risks are around us every day.
Think about it: as you walk to work, you dodge a car that speeds through a red light. You walk down two blocks, turn the corner onto a construction zone, and narrowly miss a hammer dropped by a worker from up above.
Or maybe it's only at the last minute that you catch a hole in the ground in front of you where no warning sign was placed. At work, you avoid the escalator malfunction that has injured three people that morning by deciding at the last minute to take the stairs. It goes on and on.
Whether we know it or not, much of our lives are guided by near misses.
But there will always be times when luck is not on your side, and you are hurt because of the acts of another. On top of dealing with the pain, you are forced to deal with the expenses associated with the accident, whether it is repair costs for your car or medical costs for your serious injuries.
Why should you have to deal with these costs when an accident isn't your fault, to begin with? In fact, you don't always have to pay for those costs out of your pocket… or handle legal issues associated with your injury alone. If you contact an accident lawyer, you may be able to receive financial compensation to recover for the losses associated with your accident.
What to Do in the Aftermath of an Accident
If you're ever involved in a car accident case, slip and fall accident, medical malpractice, or any other incident, you should focus primarily on getting the medical attention you need to recover. Any thought of lawsuits and liability can wait until after you and anyone else affected is fully stabilized and no longer at risk of harm.
That said, you should be aware of your actions in the immediate aftermath of an accident as much as possible. What you say and do can affect your chances of receiving maximum compensation should you decide to file a lawsuit against another person or party.
.
What is a Personal Injury Claim?
A personal injury claim is a claim filed against the party or parties responsible for your injuries. With such a claim, you (the plaintiff) state that the negligent party is fully or partially responsible for the injuries you sustained.
For example, an accident injury lawsuit might allege the following:
Another driver was under the influence of drugs or alcohol,

This caused them to drive unsafely, and

The unsafe driving resulted in an accident that directly caused the plaintiff's personal injuries.
If a personal injury claim is successful, the plaintiff may be awarded compensation depending on a variety of factors, ranging from the amount of medical treatment required, bills he/she incurred because of injuries as well as pain and suffering damages.
While accident injury lawsuits can be quite more complex than initially thought. On top of that, it can be tough to know what evidence to gather, when to file your lawsuit, how to deal with insurance companies, medical expenses, and other legal matters without the assistance of personal injury lawyers like The Rothenberg Law Firm.
What is Negligence?
The key to any successful accident injury lawsuit is proving negligence on the part of another individual, party, or organization. In legal terms, negligence means that a person or entity acted carelessly or recklessly and directly caused injury to another person or their property.
In such circumstances, the negligent party may be legally liable for the harm and costs that arose directly as a result of their actions. However, you can't just say that someone was responsible for your car accident or other act of negligence; you have to prove four distinct factors.
These factors are:
That there was a duty or standard of care that the negligent party had to uphold. The standard for what defines "duty" is often reliant on common sense interpretations. For example, all drivers on the road have a duty to other drivers to drive safely and responsibly. A driver who is under the influence of alcohol is directly failing in this duty;

The responsible party breached their duty on purpose, due to carelessness, recklessness or negligence. Once again, the prototypical example of a breach of duty is a drunk driver failing in their duty to drive responsibly for the safety of themselves and others. But this can also cover medical malpractice (where the responsible party had a duty to provide a standard of medical care) or business owners (who may, for example, have a duty to keep their storefront entrance safe and secure so that shoppers don't slip and fall);

That the breach of duty from the responsible party directly caused an injury to the plaintiff. For example, an accident injury lawsuit requires proving that the drunk driver in a drunk driving accident directly caused the injuries you suffered. 

Damages were inflicted because of the breach of duty. Once again, actual physical harm has to be inflicted for a personal injury lawsuit to be appropriate. For example, if there's a drunk driving accident in which no one is hurt, there are no grounds for filing a personal injury lawsuit. But if you were in a car accident with a drunk driver and sustained an injury, you can bring a claim against the driver. 
Though these four factors may seem relatively simple, it can be tougher to prove each of them in turn than you may think. The experienced attorneys at The Rothenberg Law Firm are well-equipped and knowledgeable in all aspects of personal injury law. With us on your side, you'll have a much better chance of securing a successful verdict or settlement for your accident injury lawsuit.
How to Determine Liability for an Accident?
In many cases, accidents have multiple parties who may be liable for damages or compensation. As an accident victim, it may be difficult for you to determine the liability in your accident. For example, imagine a scenario in which you slip and fall on ice outside a storefront, breaking a bone in the process. Possible liable parties may include:
The store's owner, who may have had a duty to clean up the ice,

If the store is renting the space and does not own the property, the landlord of the commercial property who may have the duty to clean up the ice,

The city in which the store is located, if the sidewalk is technically an area under the city's control rather than the store,

And more.
Determining liability often involves intense investigation and gathering accurate evidence. The Rothenberg Law Firm can help you gather the evidence you need to both figure out who is responsible for your accident and any damages and ensure that a successful verdict or settlement is reached when you file your claim.
What Types of Accidents Can I Recover For?
As long as your accident was caused by the negligent acts of another, you may be able to recover financial compensation for your losses. Depending on your particular case, you may be able to recover damages for your medical bills, loss of past wages, loss of future wage, pain and suffering and more. Here are just a few examples of the types of accidents that victims were able to recover for:
It's important to have a personal injury attorney on your side to be able to collect the appropriate money damages for your particular case.  The Rothenberg Law Firm has been handling personal injury cases for over 50 years! Rest assured, if our firm takes on your case, we will do everything in our power to make sure your case receives the attention, time and effort it deserves. 
How Much is an Injury Claim Worth?
It depends heavily on the circumstances surrounding your case and any damages you may have incurred. Accident injury lawsuits may include damages or compensation for the following factors:
Personal injuries sustained

The medical costs for past and future bills or medical care

Compensation for a loss of income if your injuries prevented you from returning to work for a certain period of time

Damages for pain and suffering inflicted due to the injuries

Damages for loss of companionship if a loved one was killed in the same accident

And more
Ultimately, injury claims can be worth as little as hundreds of dollars to as much as millions of dollars. It all depends on the strength of your case and how severe your injuries are. But one thing is universal throughout all accident injury claims: victims who file a claim with knowledgeable and experienced personal injury attorneys like The Rothenberg Law Firm are more likely to receive the maximum amount of compensation possible.
Get a Free Consultation with Accident Injury Attorneys Today
The Rothenberg Law Firm is one of the top personal injury law firms throughout New York, New Jersey, and Pennsylvania.
With practice areas ranging from car accidents to medical malpractice to traumatic brain injuries and more, we're well equipped and ready to assist with your personal injury case. Our legal team is composed of highly experienced attorneys with many years of experience. We have the resources and c
More importantly, we offer a free case evaluation as soon as you contact us using our contact form or by phone. This case evaluation will provide you with all the information you need to get started with your personal injury or accident lawsuit quickly – and before the statute of limitations expires.
Even better, you don't need to worry about paying any fees upfront. At The Rothenberg Law Firm, we're dedicated to our clients and we work on a contingency fee basis. This means that we don't charge you a cent unless and until you win your case. If you win, we win, not the other way around.
Do not allow those who are negligent get away with causing you pain – consult with the accident attorneys at The Rothenberg Law Firm LLP today.
It depends on the lawsuit's circumstances and details. Some accident injury lawsuits can take just a few months, but many of them take upwards of a year or more from the beginning of filing your claim to receiving the compensation for your damages or injuries. Our free case evaluation can help provide a more accurate estimate for your accident injury lawsuit.
There are two major parties in any personal injury case: the plaintiff, or the person bringing the case to court, and the defendant, around whom the negligence of the case revolves. If you file an accident injury lawsuit, you will be the plaintiff and the defendant (negligent party or organization) will be the party opposing your claim.
Although it is not required to have a legal representation, it's highly recommended. The legal system is extraordinarily complex, especially when it comes to cases that are not as cut and dry as others. With high medical bills or other damages you need to pay for, you can't afford to receive anything but the maximum potential compensation from your personal injury lawsuit. The defendant's insurance company will have an insurance adjuster as well as a team of lawyers working to make sure you receive as little as possible. Therefore, to even the playing field to make sure you receive the compensation you deserve, you need a team of lawyers at The Rothenberg Law Firm on your side. 
Boating Accident Lawyers
Thousands of people are injured every year as a result of another's negligence or carelessness in operating a boat.  According… Read More