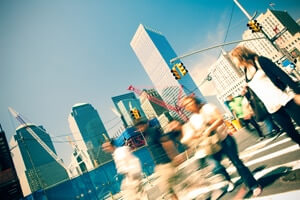 Over the Last Four Years, Pedestrian Fatalities More than Double on the Upper East Side
According to a recent report from DNAinfo.com, the number of pedestrian fatalities occurring on New York's Upper East Side has been on the rise over the last several years. As the article highlights, in the last five years alone, 26 pedestrians have sustained fatal injuries in pedestrian accidents. And in 2016 alone, seven pedestrians have already been struck and killed by vehicles on the Upper East Side. While we have not yet reached the end of this calendar year, the total number of deaths on the Upper East Side has already been the highest in recent years.
Of the seven fatalities that have occurred in 2016, four of those involved pedestrians who were crossing the street in crosswalks. One of those deadly accidents involved a 73-year-old victim who was struck by a van that made an illegal right turn near East 89th Street. The driver of the vehicle was charged with failure to yield to a pedestrian. Shortly before that accident, a 42-year-old woman was also struck by a van that made an illegal turn. Moreover, two pedestrian fatalities occurred when, on two separate occasions, cars backed into parking spots and hit elderly pedestrians.
By and large, the reported pedestrian fatalities have involved older adults. According to Valerie Mason, the president of the East 72nd Street Neighborhood Association, "you shouldn't be hit when in the crosswalk with the light . . . but now you have to look in front and behind you when you're in the crosswalk." Many Manhattan residents attribute the rise in pedestrian fatalities to increased traffic due to urban development and increases in the local population.
In response to recent pedestrian deaths in the area, safety advocates on the Upper East Side are advocating for "Leading Pedestrian Intervals," which is a traffic measure that "gives walkers a head start before cars get the light to make turns across the crosswalk." Each time a pedestrian accident has occurred, the NYPD has upped its traffic violation enforcement and has provided safety tips to local senior centers. However, it looks as though more needs to be done.
Pedestrian Prevention Measures 
What can we do to help prevent pedestrian accidents? It is important to pay attention to the following:
Increase your visibility by carrying a flashlight at night or wearing reflective clothes;
Cross the street at designated crosswalks and always be on the lookout for traffic while crossing;
Walk on sidewalks or designated pedestrian paths; and
Walk in the direction facing traffic when no sidewalk is available.
Unfortunately, fatal pedestrian accidents seem to be occurring with greater frequency. Hopefully, with increased pedestrian safety awareness and increased enforcement of traffic violations, the number of pedestrian accidents will decline. In the event that you or someone you love was injured in a pedestrian accident, contact an experienced pedestrian accident attorney to determine your rights.