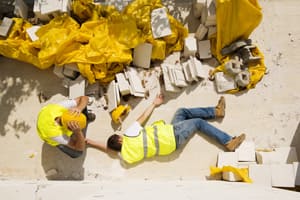 Most Construction Deaths Reported in NYC Since 2008
According to a recent article in New York Real Estate News, fatal construction accidents have reached their highest number since 2008. As the story points out, "Construction-related incidents have killed eight people so far this year, which is as much as all of 2014." In the "height of the building
boom" in 2008, the New York Times reported that construction injuries were at an all-time high.
Why are more construction-related deaths occurring now than in previous years? In New York, for instance, a lot of new building construction is taking place. According to Richard Anderson, the president of the New York Building Congress, more building typically results in more serious and fatal injuries. As Anderson explained, "The more jobs we have, it either means fewer workers doing more work, or more new workers who may not have as much experience or training."
In 2013, construction accidents only resulted in three deaths. By 2014, that number had risen significantly, and the total number of construction accidents increased by 24 percent. A recent report released by the nonprofit New York Committee for Occupational Safety and Health argued that employers and regulators alike are to blame for the growing number of construction accidents in the city. In addition, advocates contend that the Occupational Safety and Health Administration (OSHA) is "critically overwhelmed when it comes to protecting construction workers in New York State."
One of the largest problems, advocates argue, is that penalties for safety violations have remained static since 1990. In fact, employers simply account for the cost of safety violations as the price of doing business. As the report also explained, "Construction workers—particularly non-union immigrant workers—often fear they are putting their lives at risk when they step onto a construction site."
Preventing Construction Accident Fatalities
What should employers and regulators be doing differently to prevent construction-related accidents? Can construction workers take steps to ensure their own safety? According to OSHA, about 20 percent of all workplace fatalities currently involve construction workers. Does construction have to be a dangerous occupation? No, according to OSHA's directives: "construction can be a safe occupation when workers are aware of the hazards, and their employer implements an effective Safety and Health program."
Some of the legal requirements of an effective Safety and Health program include but are not limited to the following:
Providing workers with sanitary and safe working conditions;
Assigning injury prevention responsibilities to employees;
Informing workers about potential hazards;
Consistently evaluating procedures, facilities, and equipment for potential hazards;
Conducting regular injury-prevention inspections;
Conducting accident investigations in a timely manner;
Identifying and removing potential work hazards; and
Developing emergency response plans.
These are just a handful of the requirements that fall under the Safety and Health Regulations for Construction. All construction workers are entitled to work in a safe environment and all work zones should not pose dangers to pedestrians. If you or someone you love suffered a severe or fatal injury at a construction site, contact an experienced New York construction accident lawyer to determine your rights.