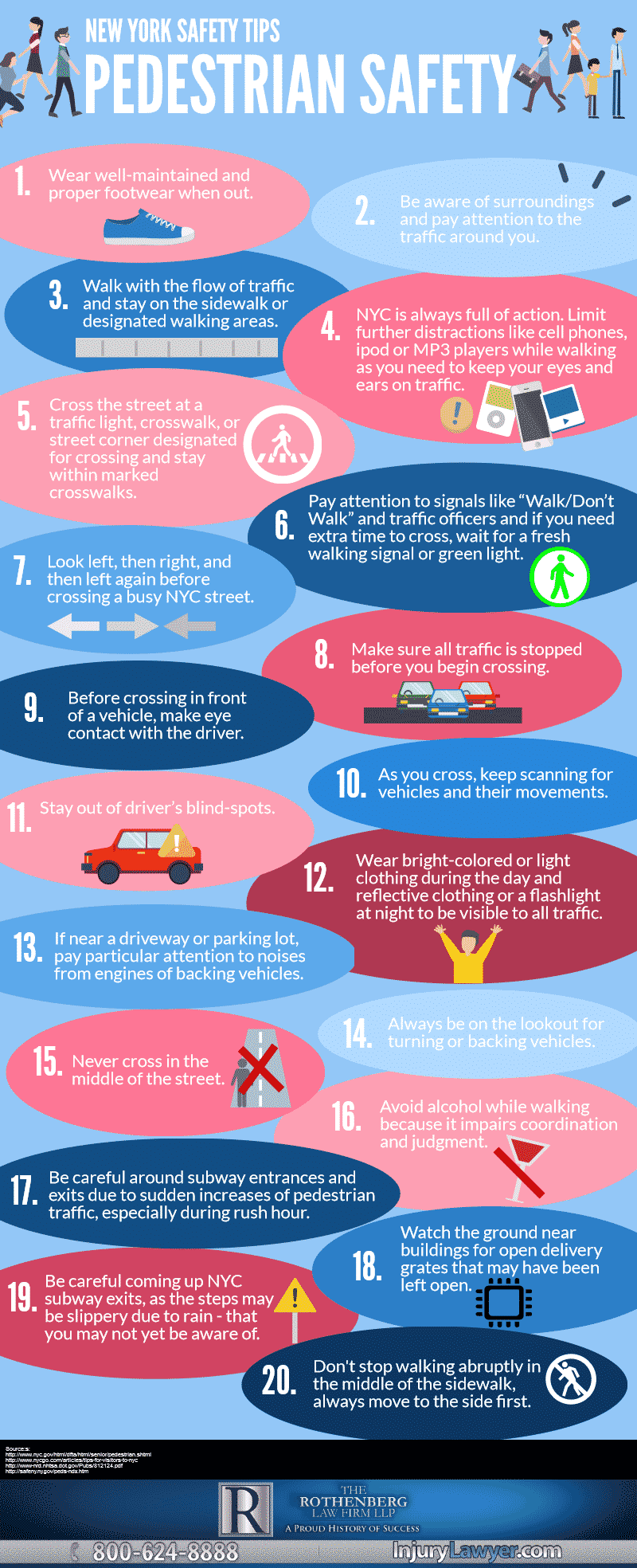 ---
Content Summary for New York City Pedestrian Safety Infographic
Pedestrian Safety:
Wear well-maintained and proper footwear when out.

Be aware of surroundings and pay attention to the traffic around you.

Walk with the flow of traffic and stay on the sidewalk or designated walking areas.

NYC is always full of action. Limit further distractions like cell phones

,

i-pod or MP3 players while walking as you need to keep your eyes and ears on traffic.

Cross the street at a traffic light, crosswalk, or street corner designated for crossing and stay within marked crosswalks.

Pay attention to signals like "Walk/Don't Walk" and traffic officers and if you need extra time to cross, wait for a fresh walking signal or green light.

Look left, then right, and then left again before crossing a busy NYC street.

Make sure all traffic is stopped before you begin crossing.

Before crossing in front of a vehicle, make eye contact with the driver.

As you cross, keep scanning for vehicles and their movements.

Always be on the lookout for turning or backing vehicles.

Wear bright-colored or light clothing during the day and reflective clothing or a flashlight at night to be visible to all traffic.

If near a driveway or parking lot, pay particular attention to noises from engines of backing vehicles.

Never cross in the middle of the street.

Stay out of driver's blind-spots.

Avoid alcohol while walking because it impairs coordination and judgment.

Be careful around subway entrances and exits due to sudden increases of pedestrian traffic, especially during rush hour.

Be careful coming up NYC subway exits, as the steps may be slippery due to rain – that you may not yet be aware of.

Watch the ground near buildings for open delivery grates that may have been left open. Don't stop walking abruptly in middle of the sidewalk, always but move to the side before stopping.