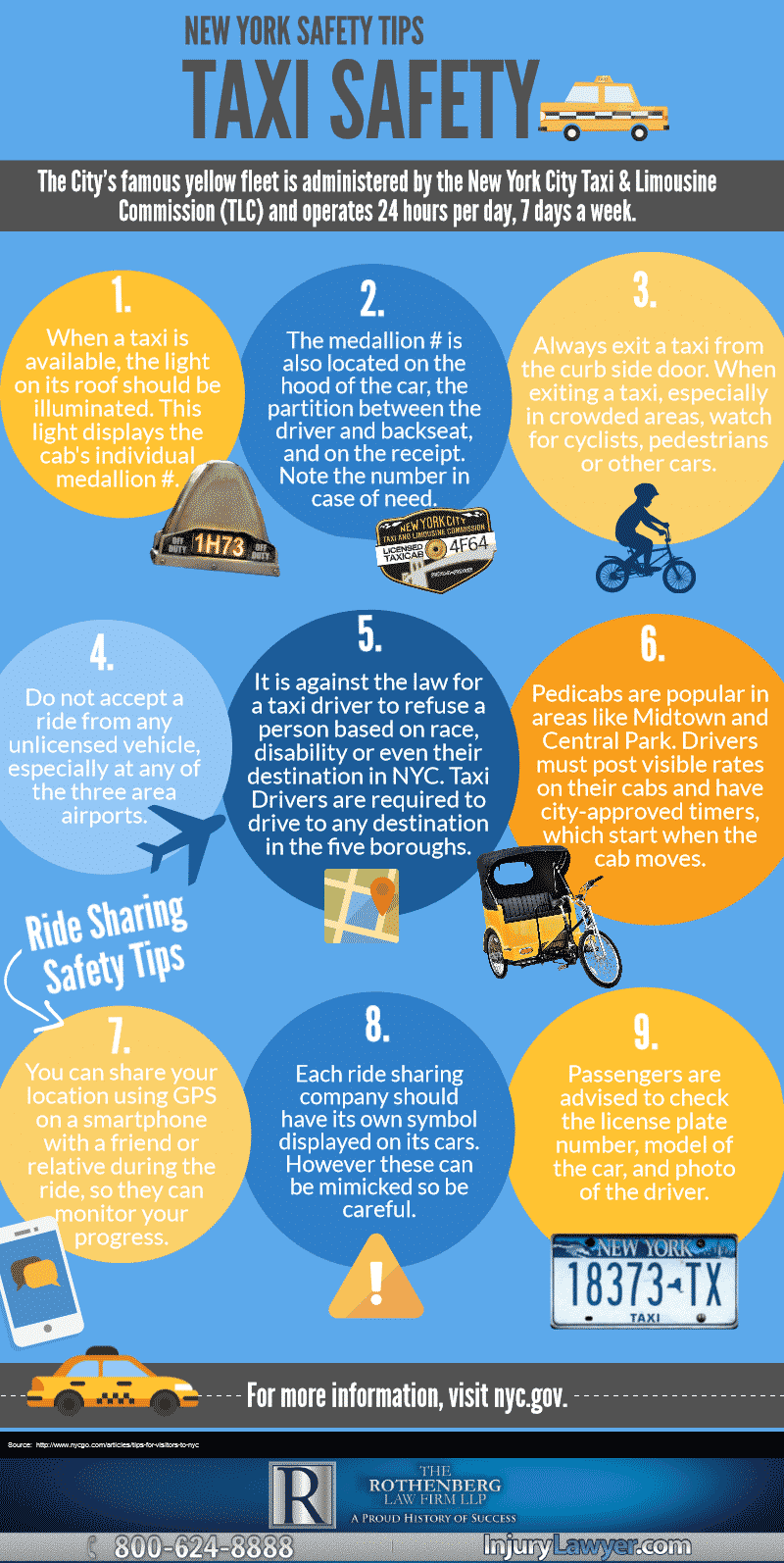 ---
Content Summary for The NYC Taxi Safety Infographic
The City's famous yellow fleet is administered by the New York City Taxi & Limousine Commission (TLC) and operates 24 hours per day, 7 days a week
When a taxi is available, the light on its roof should be illuminated. This light displays the cab's individual medallion #.
The medallion # is also located on the hood of the car, the partition between the driver and backseat, and on the receipt. Note the number in case of need.
Always exit a taxi from the curbside door. When exiting a taxi, especially in crowded areas, watch for cyclists, pedestrians or other cars.
Do not accept a ride from any unlicensed vehicle, especially at any of the three area airports.
It is against the law for a taxi driver to refuse a person based on race, disability or even their destination in NYC. Taxi Drivers are required to drive to any destination in the five boroughs.
Pedicabs are popular in areas like Midtown and Central Park. Drivers must post visible rates on their cabs and have city-approved timers, which start when the cab moves.
Ride Sharing Safety Tips
You can share your location using GPS on a smartphone with a friend or relative during the ride, so they can monitor your progress.
Each ride sharing company should have its own symbol displayed on its cars. However these can be mimicked so be careful.
Passengers are advised to check the license plate number, model of the car, and photo of the driver.
For more information, visit nyc.gov.
Source:  http://www.nycgo.com/articles/tips-for-visitors-to-nyc