Hurricane Sandy was the largest Atlantic hurricane on record, as well as the second costliest Atlantic hurricane, behind Hurricane Katrina in 2005. The storm began in the western Caribbean Sea as a tropical wave on October 22nd. It quickly gained strength and made landfall near Atlantic City, New Jersey early on October 29th.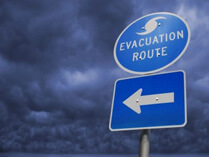 Twenty four States from Florida to Maine and from Michigan to Wisconsin in the west were affected by Hurricane Sandy. New York and New Jersey suffered the most damage from the "Superstorm."
Individuals Seriously Affected
Many East Coast residents were without power for long periods. Additionally, many suffered serious property damage as a result of this disaster.  The Rothenberg Law Firm recognizes the extreme challenges that citizens faced in the aftermath of Hurricane Sandy. Despite a lack of electricity, flooding, and citywide damage, citizens came together to assist one another whenever possible. Fortunately, a myriad of resources have been marshaled to help all those affected.
The attorneys at The Rothenberg Law Firm encourage all residents to be aware of those resources to help in case you suffered property damage or had other loses in the storm.
For those affected by the storm, there are many resources available:
• Hurricane Sandy Hotline Contacts and Numbers
• Google Crisis Map – find gas stations, pharmacies, power outage information, etc.
• Federal Emergency Management Agency (FEMA) – FEMA has various programs available to help all those affected.
• How to Apply for FEMA Assistance – The one-stop-shop to see if FEMA has a program to help in your situation.
• Internal Revenue Service Relief and Assistance
• Shelters and Warming Center Information
• Tips for Avoiding Hurricane Sandy Scams
Also, anyone interested in providing assistance can find more information at:
• The Humane Society of the United States