Construction Accident Infographic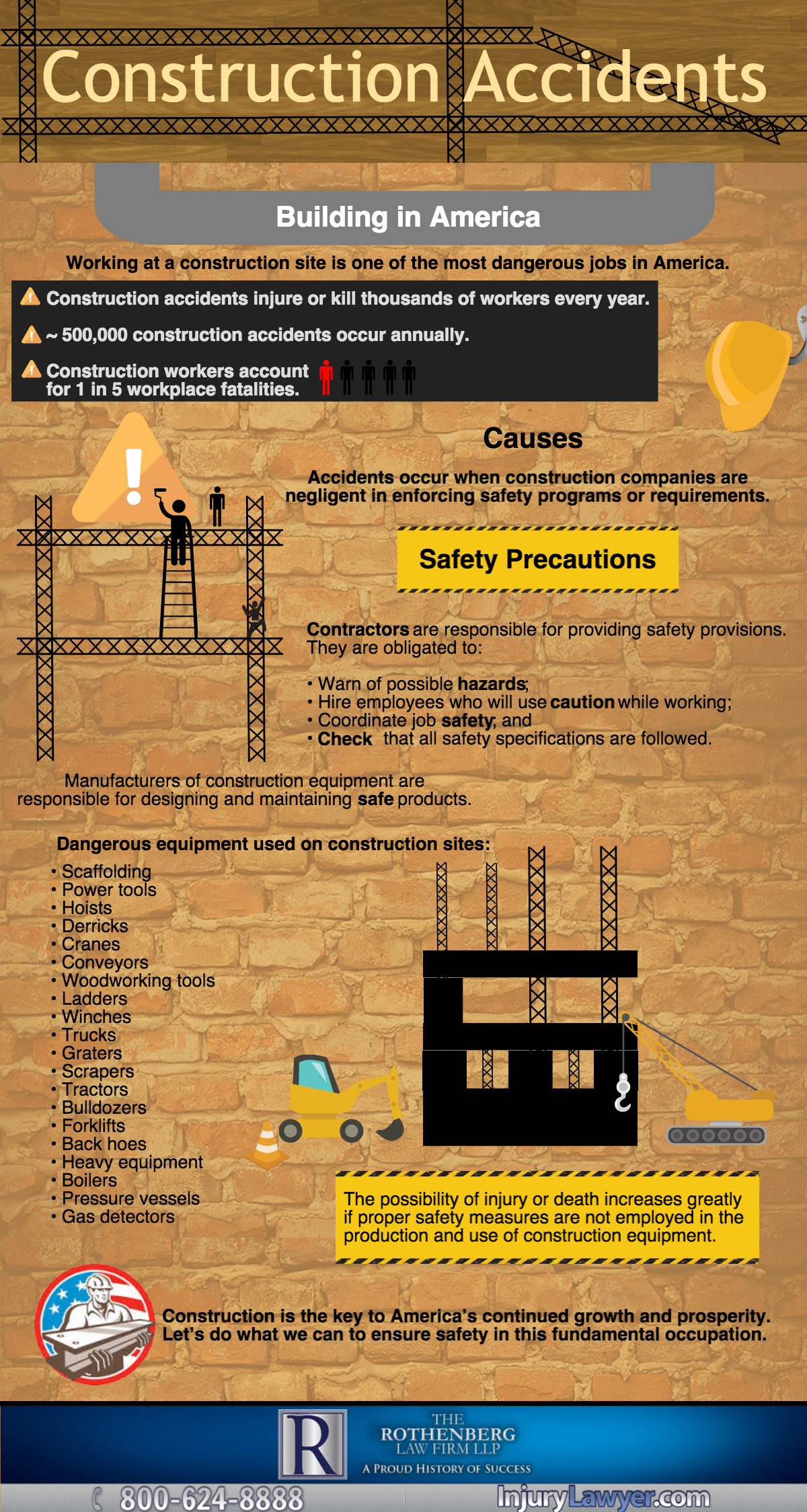 ---
Construction Accident Infographic Content Summary
The numbers:
Working at a construction site is one of the most dangerous jobs in America.
Construction accidents injure or kill thousands of workers every year.
An estimated 500,000 construction accidents occur annually.
Construction workers account for one in five workplace fatalities in the United States.
The causes:
These accidents occur when the safety programs that construction companies are obligated to enact are either absent or companies are negligent in enforcing safety requirements.
Safety Precautions:
General contractors, as well as all subcontractors, are responsible for providing appropriate safety provisions that ensure a construction site is reasonably safe.  They are obligated to:
warn of possible hazards on the site
hireemployees who will use caution while working
coordinatejob safety
check that all safety specifications are followed 
Manufacturers
 of construction equipment are 
responsible
 for 
designing
 and 
maintaining
safe
products
. Examples of dangerous equipment used on a construction site includes (but is not limited to) the following:
power tools
hoists
derricks
conveyors
woodworking tools
ladders
winches
trucks
graters
scrapers
tractors
bulldozers
forklifts
back hoes
heavy equipment
boilers
pressure vessels
gas detectors
other types of construction equipment
The possibility of injury or death increases greatly if proper safety measures are not employed in the production and use of construction equipment. Construction is the key to America's continued growth and prosperity.  Let's do what we can to ensure everybody's safety in this fundamental occupation.