Summer Safety Infographic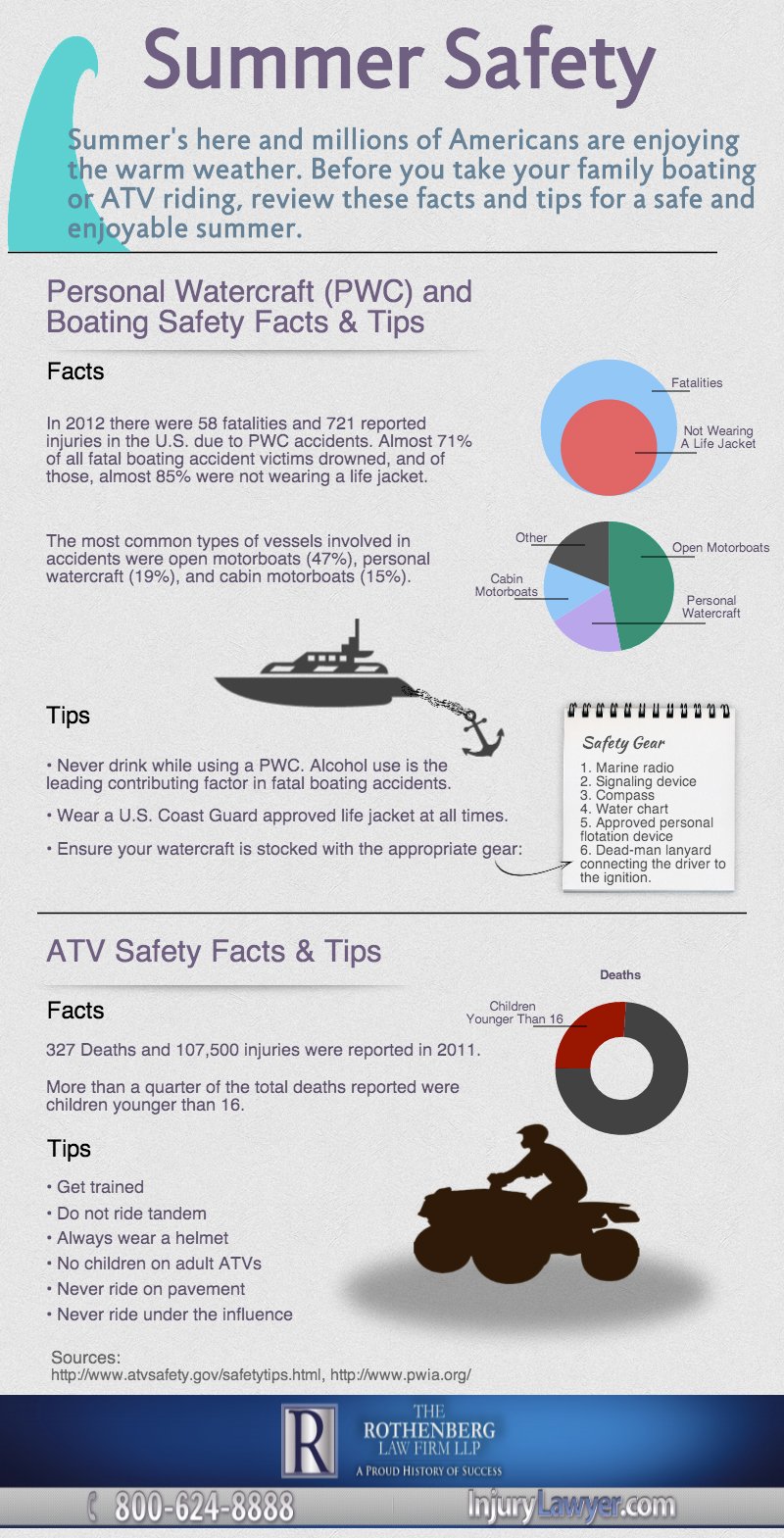 ---
Summer Safety Infographic Content Summary
Summer's here and millions of American's are enjoying the warm weather. Before you take your family boating or ATV riding, review these facts and tips for a safe and enjoyable summer.
Personal Watercraft (PWC) and Boating Safety Facts & Tips
Facts:
In 2012 there were 58 fatalities and 721 reported injuries in the U.S. due to PWC accidents.  Almost 71% of all fatal boating accident victims drowned, and of those, almost 85% were not wearing a life jacket.
The most common types of vessels involved in accidents were open motorboats (47%), personal watercraft (19%), and cabin motorboats (15%).
Tips:
Never drink while using a PWC. Alcohol use is the leading contributing factor in fatal boating accidents.
Where a U.S. Coast Guard approved life jacket at all times.
Ensure your watercraft is stocked with the appropriate gear:

Marine radio;
Signaling device;
Compass;
Water chart;
Approved personal flotation device; and Dead-man lanyard connecting the driver to the ignition.
ATV Safety Facts & Tips
Facts
327 Deaths and 107,500 injuries were reported in 2011.
More than a quarter of the total deaths reported were children younger than 16.
Tips
Get trained
Do not ride tandem
 Always Wear a helmet
No children on adult ATVs
Never ride on pavement
Never ride under the influence
Sources:
http://www.nfpa.org/safety-information/for-consumers/outdoors/grilling