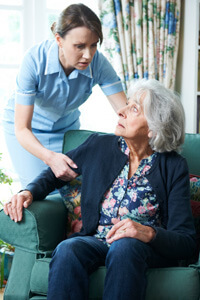 New Online Program for Detecting Elder Abuse at Home
Given that many older Americans suffer nursing home abuse at the hands of their caretakers, it is sometimes difficult to recognize the signs of elder abuse before it is too late.  According to a recent article in the Wall Street Journal, a new interactive program aims to educate the public about spotting signs of elder abuse.  The interactive program is the product of a joint effort between the Harry and Jeanette Weinberg Center for Elder Abuse Prevention in Riverdale and the 32BJ SEIU.  Thus far, the education program has targeted more than 50,000 New Yorkers who can potentially help.
One of the primary challenges of stopping elder abuse, according to Daniel Reingold, president and chief executive officer of the Hebrew Home at Riverdale (which houses the Weinberg Center), is simply "spotting the victims."  Because many older adults are isolated from their communities as a result of their health care needs, their only access to the outside world may be through their caregivers.  When caregivers—health assistants, nurses, or even family members—are the source of abuse, it is extremely difficult to even know that the abuse is happening.
How can we get better at spotting victims of elder abuse? According to Reingold, it is important to consider "nontraditional ways of finding victims."  For instance, a doorman might have particular knowledge about what is going on in a New York City residential building, but he or she might not have the appropriate training to spot elder abuse when it is happening. The solution is to train NYC's doormen to keep an eye out for suspicious circumstances involving elderly residents.
The online course is proving a fast and efficient way to reach doormen across the city.  It is only 33 minutes long, and it "provides an overview of aging issues to help distinguish between the natural signs of aging and signs of abuse."  The online seminar also outlines the five most common forms of elder abuse, including physical abuse, emotional abuse, sexual abuse, financial abuse, and neglect.  In addition to providing educational tools, the online course gives doormen contact information for local agencies when a suspicious case arises.
Signs of Elder Abuse and Neglect
According to a recent study conducted by the New York City Department for the Aging, about 76 out of every 1,000 seniors across New York state are victims of elder abuse in any given one-year period.  That is nearly eight percent of all older adults in New York.  Yet one of the most problematic issues with these numbers is that only a fraction of those cases are reported. Indeed, only one in every 24 cases is reported—about four percent.
The National Center on Elder Abuse (NCEA) provides a list of signs and symptoms associated with different forms of abuse.
Signs and symptoms of physical abuse can include:
Bruises, welts, bone fractures, cuts, open wounds, or untreated injuries;
Sprains or dislocations;
Signs of restraint or punishment;
Evidence of medication error or misuse of medication;
Elderly person's own reports of mistreatment, or a sudden change in behavior occurs; and
Caregiver's refusing to allow visitors to be alone with an elder.
Emotional and psychological abuse can result in some of the following signs and symptoms:
Upset mood or agitation;
Withdrawn or unresponsive expression; or
Elderly person's report of verbal or emotional mistreatment.
Signs of sexual abuse can include:
Bruises or bleeding around the breasts or genital area;
Unexplained venereal disease or infection;
Torn or bloody underclothing; or
Elderly person's reports of sexual assault or rape.
Neglect refers to a caregiver's failure to provide necessities, and signs and symptoms often include some of the following:
Dehydration, malnutrition, poor hygiene, untreated bedsores;
Untreated health problems;
Hazardous living condition;
Unsanitary living conditions; and
Elderly person's own reports of neglect or mistreatment.
Financial abuse looks a bit different but can prove just as serious. Signs can include:
Sudden changes to a bank account, including withdrawals and name changes;
Unauthorized withdrawals through an ATM or unauthorized credit card charges;
Unexplained disappearance of money or valuables;
Unexplained transfers of assets;
Bills not paid, despite the financial resources to do so;
Sudden interest of a previously uninvolved relative; and
Elderly person's own reports of financial abuse.
These signs and symptoms are examples of what to look for, but they are not all-inclusive.  If you suspect an elderly loved one has been abused, contact an experienced elder abuse lawyer today.