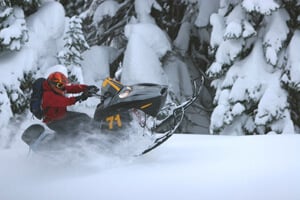 New Jersey Fatality in Snowmobiling Accident
Many Americans think of snowmobiling as an activity linked to the very cold temperatures of the northern Midwestern states, but snowmobiles are popular
recreational vehicles in parts of New Jersey, Pennsylvania, New York, and many New England states during the winter months. Tragically, however, snowmobiles can be involved in serious accidents and can cause catastrophic injuries. Just last week a New Jersey man died in a snowmobile crash while in Maine, according to report from NBC Philadelphia.
How did the accident happen? According to local police and emergency responders, the victim's snowmobile "struck a tree on the edge of the trail," reported the officer on the scene. According to the accident report, the crash occurred around 11 a.m. that morning. The accident remains under investigation, but the Warden Service emphasized that "neither speed nor alcohol were a factor." Instead, they "blamed operator inexperience for the crash," reported NBC Philadelphia. This fatality is actually the third serious snowmobiling accident reported in the state this season.
Snowmobiling Facts and Figures
How common are snowmobiling accidents? Considering the number of machines sold each year in the U.S., it should not come as a surprise that accidents occur. According to the International Snowmobilers Manufacturing Association, in the U.S. alone, there were nearly 50,000 snowmobiles purchased in 2013 and there are currently 1.4 million registered snowmobiles.
However, despite their popularity, snowmobiles can be very dangerous machines. An article published by the National Institutes of Health emphasizes that these recreational vehicles are very heavy—they often weigh more than 600 pounds—and riders travel at very fast speeds that often exceed 90 miles per hour. As a result, snowmobiles annually lead to approximately 200 deaths and about 14,000 injuries.
What are the primary causes of snowmobile crashes? According to the article, they are not much different than the factors involved in car accidents and truck accidents. Leading causes of snowmobile accidents include:
Driver inexperience;
Speeding;
General poor judgment, including on trails and off trails; and/or
Driving under the influence of alcohol or drugs.
When snowmobile accidents do occur, they frequently result in "multisystem trauma," with "head injury [being] the leading cause of death."
Are there ways to stay safe while snowmobiling? According to the New York Fish and Game Department, there are some very important safety tips to bear in mind while snowmobiling:
Gain experience and understand the capabilities of your snowmobile.
Too many snowmobilers lack sufficient experience for the tasks they undertake, and a lack of experience can result in accidents. Identify your experience levels and "stay below them."
Prepare for extreme conditions.
When it is especially cold or icy outside, snowmobiling can be very dangerous. Be prepared for these conditions by driving safely and wearing clothes appropriate for the weather.
Do not operate your snowmobile at an excessive speed.
Since trail conditions change, it is absolutely essential to drive your machine at a speed that is "reasonable for the existing conditions." If you are driving at night under low-visibility conditions, lower your speed accordingly. Or, if you know there could be icy patches on the trail, slow down and keep your eye out for ice.
Do not drink and ride.
Much like driving an automobile, it's unsafe to operate a snowmobile while you are under the influence of alcohol or drugs.
If you or one of your loved ones has sustained injuries in a snowmobiling crash, you may be able to file a claim for compensation. You should speak to an experienced personal injury attorney about your accident.