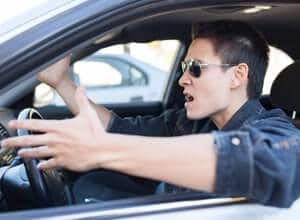 Jessica's Law in New Jersey Aims to Curb High Rate of Aggressive Driving 
How significant of a problem is aggressive driving in New Jersey, and what can we do to prevent car accidents and injuries linked to aggressive driving behaviors? According to an article in NorthJersey.com, road rage and aggressive driving remains a serious problem in New Jersey despite the recent enactment of Jessica's Law. As the article explains, "aggressive driving remains a rampant problem, with many reports of drivers weaving in and out of traffic at speeds 15 miles per hour or more over the speed limits." What other aggressive driving behaviors have been reported in New Jersey? The article lists the following:
Weaving between traffic;
Tailgating;
Honking the horn;
Flashing lights at other drivers; and
Making obscene gestures.
The article notes that a surprisingly high number of deadly traffic accidents (66%) result from aggressive driving in some form, and many of these behaviors may be inadvertent. Drivers can respond aggressively for example, when another driver cuts someone off in traffic, or when a driver fails to turn off his or her high beams at night when approaching another vehicle.
What is Jessica's Law, and how is it aimed at curbing aggressive driving? In 2005, a teenage passenger in a vehicle sustained serious injuries that left her paralyzed from the waist down. That passenger, named Jessica Rogers, was the impetus for Jessica's Law. The accident at the root of the legislation only happened because the driver of the vehicle "weaved in and out of traffic and eventually into a telephone pole while attempting to chase after another driver who'd cut the car off."
What kinds of penalties are associated with a violation of Jessica's Law? Those convicted can receive a jail sentence of up to 18 months and a fine of up to $10,000. This law, as an article in NJ.com explains, allows for prosecution of certain aggressive driving behaviors as third-degree crimes in New Jersey.  
Learning More About Aggressive Driving 
What else should you know about aggressive driving? A fact sheet from the AAA Foundation for Traffic Safety indicates that about 80% of all drivers have, at some point, exhibited road rage. AAA cites the following as the most dangerous behaviors:
Tailgating on purpose (more than 50% of drivers do this each year);
Engaging in a verbal argument with another driver (almost 50% of drivers each year);
Honking in anger or annoyance (about 45% of drivers do this);
Making angry gestures at another driver (about 33% of drivers);
Attempting to block another car from changing lanes (almost 25% of drivers admit to this);
Intentionally cutting off another car (12% of drivers); and
Actually getting out of the car to confront another driver (about 4% of drivers).
In the NorthJersey.com article, a New Jersey police chief highlighted how just how often these actions result in aggression: "Let's be honest," he said, "we've all had those moments when some other driver does something aggravating." When such a situation arises, the best advice is to stay calm and to be patient.
Let's try to keep our roads safe- avoid aggressive driving. In the event that you or someone you love sustained injuries in a crash caused by aggressive driving, an experienced New Jersey car accident attorney can help you determine your rights.