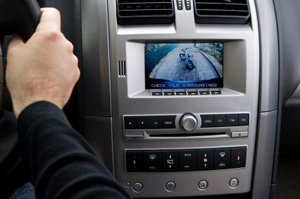 Conflict is brewing over rear-view cameras on new vehicles.
Although many safety advocates want rear view cameras required on all new vehicles, the federal government's stance on the issue is to merely recommend that all new vehicles have the cameras installed.
The National Highway Traffic Safety Administration (NHTSA) which works under the auspices of the U.S. Department of Transportation (DOT) implements and oversees safety programs and rules for our nation's roadways. NHTSA recently included rear cameras as an item on its New Car Assessment Program (NCAP) – the program which encourages automakers to include and improve upon safety features in new cars.
Auto safety advocates however, consider the government's recommendation "too little, too late."
In 2008, Congress enacted a law that required all new vehicles to have rear-view cameras in place by 2011. In December 2010, NHSTA proposed a rear-camera rule with a February 2011 enactment deadline. The DOT extended that deadline to December 2011. The December 2011 deadline was again extended to February 2012. However, the February 2012 deadline was missed and on September 24, 2013, NHTSA recommended back-up cameras for new cars. Therefore, on September 25, 2013, several safety advocate groups including, Public Citizen, Advocates for Highway and Auto Safety, Consumers Union, KidsAndCars.org, as well as individual parents that backed over their own children filed a lawsuit against the DOT for failure to implement the rear-camera rule that Congress mandated back in 2008.
What is a Backover Accident?
Backover accidents occur when a driver reverses his or her vehicle and unfortunately strikes a person – typically a child – that was in a backup "blindspot".  Tragically, every year hundreds of children in the United States are fatally involved in backover motor vehicle accidents and thousands of children sustain injuries after a backover incident.
Most backover victims are under the age of two.
Backovers typically occur in residential driveways and parking lots.
More than 70% of the accidents involve a parent or close family member behind the wheel.
Greater than 60% of backovers involve large vehicles (e.g., vans, trucks and SUVs).
Advocates and the federal government agree that the installation of rear-view technology would prevent at least some backover accidents.  However, safety activists want the government to mandate that all new cars have rear-cameras – not simply offer the cameras as an optional feature.
How Much Do the Cameras Cost?
While many automakers already offer vehicles with rear-view cameras – the safety technology is usually included as part of an added safety package (e.g., rear-camera plus side-impact and side curtain airbags plus head-protection mechanisms, etc.).  Safety packages can drive up the price of a vehicle by thousands of dollars.  The estimated cost of the back-up cameras (i.e., not part of a package) is $60 to $200 per vehicle.  Aftermarket cameras may also be purchased and installed on older vehicles not originally equipped with the safety feature.  The cost of an aftermarket camera starts at around $100.
The plaintiffs that filed the lawsuit against the government consider the returns on the cost to both consumers and manufacturers of the back-up cameras immeasurable.  According to these safety advocates, it is a small price to pay in order to avoid a potentially fatal error.
What if I Do Not Have a Camera on My Vehicle?
Safety advocates are optimistic that the recently filed lawsuit will lead to a requirement for all new vehicles to have back-up cameras. However, because the outcome of the lawsuit is unpredictable at this point, it is important to keep the following safety tips in mind.
Encourage children NOT to play in or around vehicles – especially when a driver gets in and starts the vehicle.
Supervise children near vehicles.
Before backing up – walk around your vehicle.
If children are present, have them stand off to the side where they are visible before backing up.
Roll down windows while backing up – so you are able to hear what is going on around the vehicle.
Teach children not to leave bicycles and toys in the driveway.
Actively check mirrors while backing up.
Finally, as noted above, aftermarket cameras may also be installed on older car models to help better protect you and your loved ones from an unfortunate backover accident.