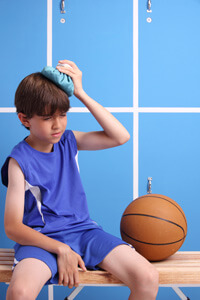 Sports-related concussions are a serious problem among athletes of all ages, including children. However, traumatic brain injuries (TBIs) are not the only sports-related injuries that we need to be concerned about. According to a recent article in the Huffington Post, each sport—from organized team contact sports to individual or unorganized sports—comes with "some risk of injury." How can you help your kids avoid getting hurt when they are participating in these activities?
Teach your children about the importance of wearing safety equipment. Many team sports require players to wear a helmet (e.g., football, baseball, hockey), and head protection is also vital in individual sports such as cycling. There are many different kinds of helmets out there, and it is important to make sure that you are buying one that is up to current U.S. government safety standards. While some helmets may look more visually appealing, you want to be sure your child has the most protection that will be effective at preventing a brain injury.
In addition to helmets, other safety equipment can be almost as valuable when it comes to preventing injuries. Examples of protective gear include but are not limited to:
Mouthguards
Protective eyewear
Chin straps
Wrist pads
Elbow pads
Shin guards
Knee pads
Before you buy any safety gear, make sure that your son or daughter tries it on first. For safety gear to prevent injuries, it needs to fit and it also needs to give athletes "the range of motion they will need to play the game." Keep in mind that your child is much more likely to wear safety gear if it is comfortable and fits properly.
Also, always make clear to your child that he or she should never play with an injury. Only allow your child to return to play once the injury has healed.
Sports-Related Injury Statistics Among Children
How often do sports injuries affect kids? According to a fact sheet provided by the Lucille Packard Children's Hospital at Stanford University, around 30 million young children and adolescents participate in organized sports annually. Every year, more than 3.5 million injuries occur. "Almost one-third of all injuries incurred in childhood are sports-related injuries."
While the most common sports-related injuries in kids under the age of 19 are sprains or strains, youth sports can result in very serious and even life-threatening injuries. The following represent some important facts and figures about childhood and sports-related injuries:
Around 50 percent of all reported head trauma cases in kids and young adults result from bicycling, skateboarding, or skating accidents.
Sports involving contact and/or collisions have the highest rates of injury.
A majority of sports-related injuries happen during practices as opposed to during games.
Emergency departments see the highest number of injuries from football (about 215,000 per year).
Bicycling (200,000 annual injuries), basketball (more than 170,000 injuries), and baseball/softball (almost 110,000 injuries) are the leading cause of sports-related injuries after football.