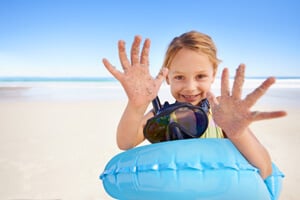 Safety and Swimming
Now that spring is here and summer is only a few weeks away, it is important to think about child injuries and safety issues that arise when it comes to swimming. Whether you are headed to the beach or a family pool party, you need to remember that children can be at risk of drowning. According to a fact sheet from the National Traffic Safety Institute, drowning is a leading cause of death during warm weather months, and more than 1,000 kids aged 13 and under suffer fatal drowning injuries. In addition, around 16,000 children in the same age group require medical attention for near-drowning accidents.
Who is at the greatest risk of drowning? Typically, kids ages 4 and under are more likely than persons in other age groups to drown. Even if your children and their friends are only playing in a shallow wading pool, it is essential to keep in mind that "a child can drown in as little as one inch of water." Furthermore, a majority of unintentional drownings occur "at home or in residential pools."
Why is it so important to pay attention to safety tips related to drowning prevention? Drowning is often described as the "silent killer." When you are at home, make sure that you never leave young children unattended around water—from bathtubs to buckets to toilets. Around pools, whether it is your own pool or a neighborhood pool- never leave your kids unattended—even for a few seconds. If your family has a pool, be sure to surround it with a fence to prevent children from entering without your knowledge. You can also teach your kids to avoid running or jumping when they are around the pool. You can arm yourself by learning CPR. If an infant or small child needs CPR, you can administer it faster than waiting for an emergency medical responder to arrive.
Unintentional Drowning Facts
How large of a problem is unintentional drowning? The Centers for Disease Control and Prevention (CDC) indicates that about 10 people die each day from unintentional drowning, and it is currently the fifth-leading cause of unintentional death in the country. Here are some other important facts and figures to keep in mind:
More than 3,500 people die every year from unintentional drownings, and that figure does not even include boating-related accidents (which result in about 350 additional deaths annually).
About 20 percent of fatal drowning accidents involve children under the age of 14.
More than half of all drowning victims who seek emergency medical treatment require hospitalization.
Nonfatal drownings are responsible for debilitating, life-long injuries, such as brain damage, memory problems, learning disabilities, and the permanent loss of basic functioning.
The CDC also lists the primary factors involved in assessing one's risk of drowning, including but not limited to the following:
Lack of ability to swim;
Lack of barriers or fences around residential pools;
Lack of supervision of children around pools and other water sources;
Lack of life jackets;
Using alcohol before swimming; and
Having a seizure disorder.
In many cases, another person's negligence leads to a drowning accident. If someone you love suffered serious injuries in a drowning accident, you may be able to file a claim for financial compensation. You should talk with an experienced personal injury attorney about your case.