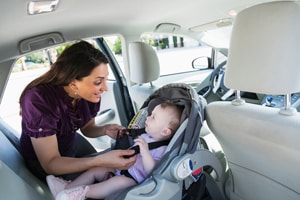 How Has Pennsylvania's Recent Child Safety Seat Law Impacted Injury Rates Thus Far? 
Back in August, a new child car seat safety law took effect in Philadelphia and across the state of Pennsylvania that aimed to prevent child injuries in car accidents. What is the Pennsylvania car seat law, and how does it work? As an article in the Philadelphia Inquirer explains, the new car seat law requires children under the age of 2 to ride in a rear-facing car seat, and those children must be restrained either in a convertible car seat or an infant-only car seat. Prior to this change in the law, Pennsylvania only required that children under the age of 4 be restrained in an age-appropriate car seat, and children between the ages of 4 and 8 be restrained in a booster seat. The change to the law created new requirements for younger children, specifically adding the rear-facing seat requirement.
In 2011, the American Academy of Pediatrics reported a "best practice recommendation that children should remain in a rear-facing car seat until at least age 2, or until they have outgrown the height and weight limits of their rear-facing seat," according to the Philadelphia Inquirer article. Noting the significance of this recommendation, Pennsylvania lawmakers became the fourth in the country to make changes to the state law in accordance with the best practice recommendation from the American Academy of Pediatrics.
If you are not certain whether your car seat meets the requirements, SafeKids.org provides information about "Car Seat Checkup Events" where you can have your car seat setup assessed by a trained technician. Safety advocates indicate that the changes to the car seat law are already keeping Philadelphia infants and toddlers safer as passengers.
Facts and Figures About Child Passenger Safety 
What else should you know about child passenger safety? According to a fact sheet from the U.S. Centers for Disease Control and Prevention (CDC), the following figures show the importance of car seat safety in preventing child injuries:
602 children under the age of 13 suffered fatal injuries in car accidents in 2014;
More than 121,000 kids under the age of 13 sustained serious injuries in car accidents the same year;
Approximately 618,000 children between the ages of 0-12 ride in cars without the use of a proper safety seat;
More than one-third (34%) of all children under the age of 13 who died in car accidents were not wearing seat belts;
Car seat laws and car seat education programs are proven to decrease the rate of child injuries and fatalities in car accidents; and
Children who are properly restrained in car seats and booster seats are at a decreased rate (17%) of sustaining a serious or fatal car accident injury, as opposed to children who are simply buckled into the vehicle without an age-appropriate car seat.
Let's try to keep our children safe on the roads. Always buckle up and make sure your child is secured in the correct car seat/booster seat before driving anywhere. In the event that your child suffered a serious injury in a motor vehicle accident, contact an experienced car accident lawyer.