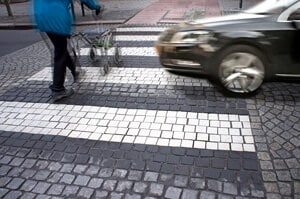 New Legislation Gives Right of Way to Pedestrians at Flashing Red Lights
When pedestrians in New York City cross the street at a "don't walk" sign, who is responsible if a pedestrian accident happens? Prior to recent legislation, the rules when the flashing red "don't walk" sign appeared were somewhat murky for pedestrians crossing the street in NYC. According to
a recent report from NBC 4 New York, "a newly passed bill will give pedestrians the right of way not only when there is a white light "walk" sign, but also "during a flashing red 'don't walk' signal or countdown clock." As the NBC News 4 New York report emphasizes, "the new law would legitimize what so many New Yorkers already do." According to a pedestrian safety advocate interviewed in the article, "the bill makes it clear that unless there is a steady red hand, the pedestrian has the right of way to cross the street."
What does this mean in terms of liability for a pedestrian accident that takes place during a flashing red "don't walk" signal? If a driver strikes a pedestrian who is crossing the street when the signal is flashing red, that driver "could face civil or criminal liability for reckless driving." Mayor Bill de Blasio is predicted to sign the bill and once it is signed, it will become effective within 90 days.
Pedestrian Safety Tips 
Even if pedestrians have the right of way at flashing "don't walk" signs in New York, it remains important to consider pedestrian safety tips. According to a fact sheet from the AAA Foundation for Traffic Safety, pedestrians should consider the following:
Make yourself visible! Wear lightly colored clothing or reflective clothes at night, remain in well-lit areas whenever you are out walking, and make eye contact with drivers whenever possible;
Avoid distracted walking! This means do not walk while looking at your smartphone and put away your headphones while you walk;
Follow traffic rules and signage whenever you are walking, and always be aware of the rules of the road for motorists around you; and
Avoid walking in dangerous areas for pedestrians, such as highways, and always walk on a sidewalk whenever possible.
Will this new legislation help prevent pedestrian accidents? We can only hope. Of course, if you have questions about filing a lawsuit for injuries sustained in a pedestrian accident, an experienced New York personal injury attorney can help you.