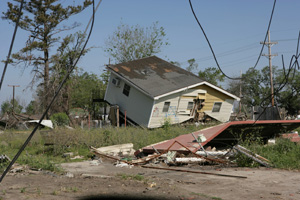 A mass disaster can result from a collision, fire, explosion, storms, or any other accident that causes injury, loss of property, or loss of life to a substantial number of people. Airline crashes and hotel or building fires are common examples of mass disasters, but they are far from the only types. People's lives change dramatically after such an event, whether an injured survivor or family members of someone wounded or killed.
Being a victim of a mass disaster is devastating, as the loss of a limb or the senses of sight or hearing can have a profound effect on the way a person or his or her family live. Often, such disasters could have been prevented, and injury could have been avoided. Unfortunately, many of the institutions designed to protect people in these circumstances, like insurance companies, will aggressively try to avoid paying valid claims. This is why it is important to prepare for a disaster by consulting with an attorney to review your insurance policies.
Securing Legal Services
If you or someone you know has suffered serious injury in a mass disaster, you may qualify to bring legal action for money damages, medical expenses, or other benefits. Please contact The Rothenberg Law Firm LLP immediately at 1-800-624-8888 or submit an InjuryLawyer.com free online case evaluation. There is NO CHARGE for the initial consultation and we work on a contingency fee basis if we agree to handle your case. Contingency fees mean we would only receive payment if you receive a monetary recovery of funds.
Frequently lawsuits need be filed before an impending expiration date, known as the Statute of Limitations. In order to preserve your rights to possible compensation you should, therefore, contact us immediately.