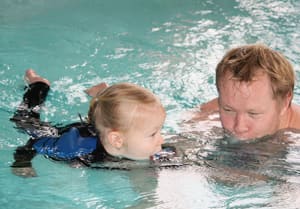 Launch of Water Safety USA Program
Given that we are on the cusp of summer vacations and warm weather, it is important to address issues of swimming safety and child injury prevention. According to a recent article in SwimSwam.com, the USA Swimming Foundation recently partnered with national organizations to raise awareness about "water safety and drowning prevention." Together this consortium launched "Water Safety USA," a partnership that "aims to empower people with resources, information, and tools to more safely enjoy and benefit from our nation's aquatic environments."
Some of the groups involved include the American Academy of Pediatrics, the American Red Cross, the U.S. Coast Guard, the U.S. Consumer Product Safety Commission (CPSC), the Centers for Disease Control and Prevention (CDC), the National Park Service, and Boy Scouts of America. The consortium brings together many different organizations with various types of safety expertise.
These organizations came together out of concern for the type of water safety advice being provided to the general public. In some cases, "these messages inherently conflict." As such, it can be difficult for individuals and families without any specialized knowledge about water safety to ensure that they stay safe while swimming and that they provide their kids with proper information to avoid preventable injuries.
The article emphasizes the fact that drowning is currently a leading cause of death in the United States. The groups involved in Water Safety USA believe they can provide "evidence-based strategies to promote water safety" and to develop prevention programs that are more effective than those currently in existence to help prevent future drowning deaths.
Getting the Facts About Unintentional Drowning
What do you need to know about drowning? According to the article, around 5,800 drowning accidents result in treatment at emergency departments every year, with more than 3,800 people dying from drowning each and every year. A fact sheet from the CDC provides additional facts and figures that help to show the seriousness of drowning accidents:
Between 2005-2014, approximately 10 Americans per day died from drowning.
Around 20% of all people who suffer fatal drowning injuries are children under the age of 15.
About 50% of all nonfatal drowning victims require hospitalization following treatment in an emergency department.
Nonfatal drownings result in serious and life-threatening consequences, including brain damage, memory problems, and learning disabilities.
Hopefully, the new swim safety education program will help prevent future drowning injuries.