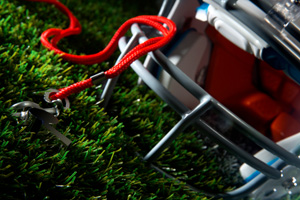 Sony Pictures Shifts Focus in 'Concussion' Film to Avoid Antagonizing the NFL
Do enough Americans know about the links between multiple concussions, football, and life-threatening disease? According to a recent article in the New York Times, Sony Pictures Entertainment decided to make a film that showcased the correlation between dementia and football-related brain injuries. The studio named the film for the problem it depicted: "Concussion."
The movie will depict the dangers of multiple concussions sustained by football players on the field and the significant risk of developing chronic
traumatic encephalopathy (CTE). Sony's film shows, among other moments in the development of scientific knowledge surrounding CTE, a fictionalized representation of Dr. Bennet Omalu, who was the first to identify the degenerative brain disease back in 2002. Since Omalu's initial discovery, numerous other scientists and medical researchers have expanded on his work.
According to the article, the NFL has previously voiced frustration with documentary shows and specials discussing CTE. For example, NFL officials allegedly complained to executives at ESPN in 2013 about a Frontline documentary on the subject, and as a result ESPN ceased its partnership on the special. Thus far in relation to Sony's "Concussion," the NFL has commented that it "welcomes attention to health and safety issues" surrounding the game of football. 
CTE and Concussion-Related Brain Degeneration: What You Need to Know
The Brain Injury Research Institute, where Dr. Omalu first discovered CTE, defines the disease as a progressive degenerative disease of the brain that typically results from multiple concussions and other forms of traumatic brain injury (TBI). It is most common among athletes involved in contact sports, including but not limited to:
Football;
Hockey;
Lacrosse;
Boxing;
Soccer;
Baseball; and
Basketball.
What are the common symptoms? One of the problems with this disease is that its symptoms frequently appear many years after the initial injuries and are commonly debilitating and life-threatening. Symptoms include but are not limited to:
Memory loss;
Impulse control issues;
Erratic behavior;
Impaired judgment;
Aggression;
Depression;
Difficulty with balance; and
Dementia.
Thus far, only post-mortem brain examinations can confirm the presence of the degenerative brain disease. However, early diagnostic tests can allow medical doctors to provide proper care to patients who may be suffering from CTE. If you or someone you love suffered a concussion while playing sports, contact a brain injury attorney to learn more about your options.