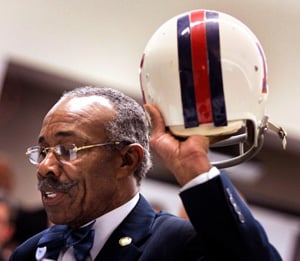 Brain Trauma Concerns Among Professional Athletes
Are NFL players more likely than other professional athletes to suffer a traumatic brain injury (TBI) on the field? According to a recent article in Bloomberg Business, Chris Borland, a 24-year-old linebacker for the San Francisco 49ers, recently decided to leave the league "based on concern about long-term brain trauma." Other former players appear to have similar concerns. In fact, a number of young players recently left the NFL based on concerns about head trauma.
As Borland explained, "I just want to live a long healthy life, and I don't want to have any neurological diseases or die younger than I would otherwise." According to Donte Stallworth, 34, another former NFL player, "players today are more concerned than ever about brain trauma and their health." Stallworth emphasized that it is tough to watch athletes take hits that render them unconscious and at the risk of concussions. As a current wide receivers coach, Stallworth knows that it is often difficult for young players in their early 20's to imagine dealing with the ramifications of multiples concussions and chronic traumatic encephalopathy (CTE) when they are in their 40s, 50s, and 60s.
The NFL's senior vice president of health and safety policy, Jeff Miller, underlined that the league has developed "a growing culture of safety," which has come with "significant investment in researching and understanding issues such as brain trauma." In general, that focus does seem to be having an impact, as "concussions in NFL games were down 25 percent last year." Yet, professional athletes continue to put themselves at risk for long-term and life-threatening injuries resulting from multiple concussions.
Learning More About Chronic Traumatic Encephalopathy (CTE)
While anyone can develop chronic traumatic encephalopathy (CTE), a brain disease that is caused by repeated concussions and hits to the head, NFL players and other athletes involved in contact sports are at particular risk of this debilitating condition.
What is CTE, exactly? According to the CTE Center at Boston University, it is a "progressive degenerative disease of the brain found in people with a history of repetitive brain trauma, including symptomatic concussions as well as sub-concussive hits to the head that do not cause symptoms."
Sustaining repeat concussions can be debilitating and deadly later in life. As Sidney Rice, another former player, pointed out, "I had my first concussion as a child in little league football, and not realizing how it could affect me, I got back up and continued playing." Thinking about his own experiences and his decision to leave the NFL at age 27, Rice emphasized, "it's now more important than ever to educate others, both athletes and non-athletes, about the importance of brain health."
According to the Center, key symptoms of CTE include the following:
Loss of memory;
General confusion;
Impaired judgment;
Problems with impulse control;
Aggressive behavior;
Depression and/or anxiety;
Suicidal thoughts or tendencies;
Parkinson's Disease; and
Dementia.
If you sustained a brain injury while playing sports, you may be eligible to file a claim for financial compensation. Contact an experienced brain injury lawyer to learn more about your rights.