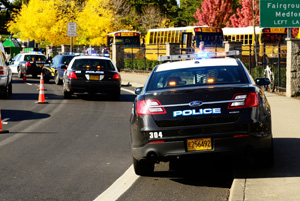 Injuries Reported in School Bus and Truck Accident
How safe are school buses at protecting our children during a bus accident? According to a recent article from CBS New York, nearly 30 people suffered injuries in a collision on Long Island involving a school bus and a box truck.
The accident occurred in Deer Park, New York last month. The school bus had been carrying 24 high school students. The bus had been heading toward Wilson Technical Center, a school in Dix Hills. Those who suffered injuries were taken to nearby hospitals for assessment and treatment. Based on a statement from Suffolk County Police Sergeant Colleen Cooney, most of the accident victims sustained only minor injuries, or "minor bumps and bruises." In addition to the 24 students onboard, the school bus driver, a bus attendant, and the driver and passenger of the box truck also sustained injuries.
School Bus Accident Statistics: Updated Crash Data from NHTSA
How often do school bus accidents take place, and how common are serious and fatal injuries in these crashes? Many of us entrust our children's safety to school bus drivers nearly every day of the week, so it is important to stay updated on school bus safety information. When federal agencies gather data on school bus accidents, they describe crashes involving school buses as "school transportation-related crashes."
What is a school transportation-related crash? It is a crash that "involves, either directly or indirectly, a school bus body vehicle, or a non-school bus functioning as a school bus, transporting children to or from school-related activities." In other words, data concerning school transportation-related crash includes accidents that involve school buses, but it also includes accidents in which other vehicles—not defined as a school bus per se—are used like school buses, to transport kids to school or other school-related activities.
According to recent crash statistic updates from the National Highway Traffic Safety Administration (NHTSA), 1,236 fatal school transportation-related crashes took place between 2001 and 2010. When we consider the total number of auto collisions that occur in the country on an annual basis, that number does not seem particularly high. To be sure, those 1,236 fatal collisions account for only 0.34 percent of all reported fatal automobile accidents (363,839) that occurred during the same period.
Thankfully, school bus accidents do not occur as frequently as other forms of auto accidents. Yet, between 2001 and 2010, nearly 1,400 people suffered fatal injuries in school transportation-related crashes, which averages out to around 137 fatalities each year. Based on NHTSA's data, about 13 percent of those fatal injury victims are school-age children. Every fatal injury is one too many. Pay attention to school buses loading and unloading and always adhere to the posted speed limits within school zones.