Scooters and e-bikes are all the rage in towns all over the United States, especially in downtown areas where people are using them to zip around quickly while they are shopping or dining. The Covid-19 pandemic made these forms of transportation even more popular as cars and traditional vehicles became hard to fix or replace.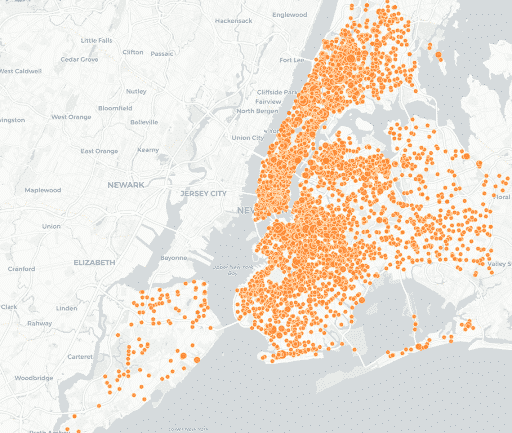 However, electric scooters and e-bikes can be very dangerous, especially for inexperienced riders. While these scooters and bikes may be eco-friendly and inexpensive, they leave people open to road hazards and extremely vulnerable when accidents happen. In the event of an accident, you should contact a personal injury attorney to determine your rights.
In the first ten months of 2021, according to NYC CrashMapper.org there were 5,264 crashes causing 5,607 injuries involving ebikes, scooters, mopeds, bicycles, and motorcycles.
Types of Electric Scooter Accidents Lawsuits 
When you file a personal injury lawsuit after an accident, you will need to determine if there was a negligent party responsible for your damages. Typically, the negligent party will be a motorist, the municipality, or the scooter or e-bike manufacturer. Depending on the details of your accident, your lawyer will help you determine the negligent party.
Driver Error:
Crashes between motorists and scooter drivers are some of the most common but also the most dangerous forms of collisions. If you're hit by a vehicle, you may be eligible for compensation from the motorist or their insurance company. These lawsuits are similar to car accidents, motor vehicle accidents, or bicycle accident lawsuits.
Road Maintenance and Disrepair:
When the city or town does not adequately take care of roadways and your scooter accident is due to that negligence, you may be eligible to collect compensation from the municipality. The municipality can be negligent due to potholes, cracks, construction materials left in roadways, and more. These dangerous conditions can lead to serious injury or even death in some cases. A personal injury lawyer can help build your case against the city and get compensation for your injury, time off work, and more.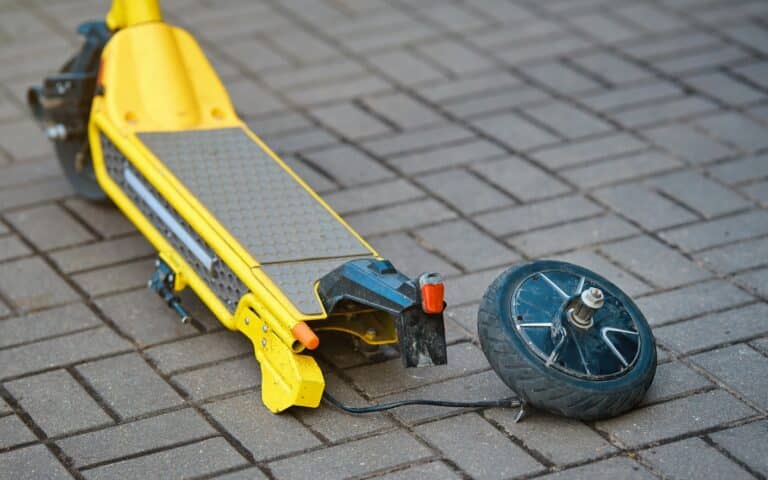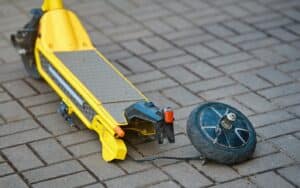 Manufacturer Defects:
You have probably seen the videos of scooters, e-bikes, hoverboards, and more catching fire due to manufacturing defects. Other manufacturer defects may include malfunctioning brakes, wheels, electrical components, or anything else that fails with your e-scooter or bike. A personal injury lawyer can help you determine if your accident was preventable and caused by manufacturer or scooter company negligence.
What is an E-Bike?
Most people have seen the electric scooters that are all the rage in downtowns like Manhattan, Queens, NYC, Austin, Chicago, and L.A. They are also popular with kids and teenagers. E-scooters and e-bikes are becoming a popular form of transportation for adults who are eco-friendly and experienced bicyclists. However, with more of these being used, the more likely it is for e-scooter accidents to happen.
E-bikes refer to electric-assist bikes that operate mostly like a standard bicycle, but also have a small electric motor to help add power and speed sustainability. E-scooters refer to electric-powered scooters.
E-bikes are more expensive than scooters but are becoming a popular asset in bike-share programs. The bike-sharing programs are helping more people get to and from work and run errands without gas-powered vehicles. There are often city ordinances that prohibit these bikes from accessing bike lanes and running paths, which means they are often on the roadways.
E-bikes, like scooters, can be a dangerous mode of transportation that leaves riders vulnerable and open to injury. Despite the risk, it is rarely the e-bike or scooter rider that is at fault in e-scooter accidents or bike accidents.
How to Protect Yourself When Riding an E-Bike or Scooter
Scooter and e-bike accidents can be fatal which is why it is so important to take every precaution to protect yourself when riding.
Wear a Helmet

Wear knee and elbow pads

Only ride with one person on the scooter or bike

Never ride a scooter, moped, or electric bike while intoxicated or impaired

Never ride a scooter, moped, or electric bike while tired
Sometimes, no matter what precautions you take, accidents will happen. If you are struck by a motorist or get into an accident in the road due to a pothole or other road hazards, you should try to move out of the way of traffic if you can do so without furthering your injury and get medical attention right away. 
Steps to Follow After a Scooter or Electric-bike Accident 
A scooter or electric bike accident can be unnerving, disorienting, and scary; however, there are a few steps you should take on the scene if possible.
If you are seriously injured, call 911 and listen to all medical professional advice. Scooter injuries can be very serious and can lead to broken bones, head injuries, spinal cord injuries, traumatic brain injuries, wrongful death, or other catastrophic injuries.
Regardless of if you are seriously injured or not, your first step in the process is to alert the authorities.
Call 911! You should always get a police report on the accident, even if you are not seriously injured. You may experience symptoms of injuries after leaving the scene and you won't be able to prove the accident happened without a police report. If you are not able to file a police report on scene, you can do so within 10 days of the accident in most cases.

Medical Attention- Head to the emergency room in the ambulance after calling 911 if you are seriously injured. If you are not seriously injured, you may still need to visit your doctor or urgent care facility to treat your injuries. Even the smallest of injuries such as bruises, cuts, and scrapes, or body aches, should be documented and may become worse after a few days.

Evidence Collection- Whenever possible, take pictures of the scene of the accident as well as your injuries on site. Obviously, your first priority is to seek medical help, so if you can't get any details, it is understandable. If someone is at the scene with you or if you are able, try to obtain as much evidence as possible to build your case against the negligent party. You'll need the name and contact information for everyone involved in the accident as well as witnesses, the license plate info and vehicle description, and insurance if involved in an accident with a motorist. It does not matter if you were on a Lime, Lyft, Bird, or your own personal electric bike; the more information and photographs you have, the better.  

Call a Personal Injury Lawyer- After you've received medical care you should contact a personal injury attorney. If an insurance company is involved, they will want you to accept their settlement immediately to avoid legal action. Do not accept anything, do not sign anything, and do not give any statement until you speak with an attorney. Speak to a personal injury attorney for a free consultation. 
Once you have met with a scooter accident lawyer, and established an attorney-client relationship with one of our attorneys at The Rothenberg Law Firm, your one job is to work on getting better! We handle the rest for you. 
Clients Can Receive Compensation for These Damages:
When you sue a negligent party for damages, you are suing for a monetary amount to be awarded to cover your medical expenses, pain and suffering, lost wages, and more.
How Long Will a Personal Injury Lawsuit Take?
Personal injury cases are generally not settled right away. Your medical treatment, as well as investigations, settlement negotiations and more will all need to take place before your case is resolved. Sometimes cases settle out of court, others settle before trial and still, others may go to trial. All these things can take months, and sometimes years to complete. Do not get discouraged by the length of your case. Rest assured that our firm will work hard on getting you the money you deserve for your injuries regardless of how long it takes. 
How Will a Personal Injury Attorney Help?
A personal injury lawyer will help you or a loved one build a case against the at-fault party and ensure that you receive fair compensation for the injuries and damages you sustained. Personal injury lawyers are experienced in knowing what to expect if the insurance company is refusing to pay you what you really deserve, and how best to proceed in many different circumstances.
If you want to ensure your rights are protected and you are compensated fairly, call our law offices for a free case evaluation today. The Rothenberg Law Firm has been dedicated to fighting for our injured clients for over 50 years!