In recent years, New Yorkers have increasingly turned to bike riding for exercise, sport, or simply a relaxing way to spend quality time in the outdoors together with good friends and family. New York City has embraced this trend, installing 21.4 miles of protected bicycle lanes in 2019, with an additional 22.8 lane miles of dedicated cycling space in neighborhoods with high numbers of cyclist fatalities and few cycling facilities.
With the COVID-19 pandemic, the number of bicycle riders in New York City skyrocketed as thousands of commuters chose biking as their mode of transportation, abandoning subways and buses for bike-sharing options like Citi Bike. In July 2020, there was an estimated 80% increase in cycling trips in New York compared to the year earlier, due largely to an extraordinary 147% increase in riding by female bike riders.
The increase in bike ridership is a positive development for New York City residents, with the potential to improve the city's air quality, reduce its carbon footprint and enhance public health. At the same time, however, the increase in ridership on New York City's busy streets has led to a 43% increase in bicycle injuries. As the number of bike crash victims and bicycle fatalities continues to rise, it is essential for bikers to know their legal rights.
If you or a loved one has been injured in a bicycle crash, it is critically important to seek legal representation from a NYC bicycle injury lawyer who can skillfully navigate your case and help you receive fair compensation for your injuries. Our bike accident lawyers have decades of experience and approach the attorney-client relationship with care and sensitivity.  Call today for a free case review and consultation.
How Often do Bike Accidents Occur in New York City?
In 2019, there were 3,835 crashes between motor vehicles and bike riders on New York City streets in which the cyclist was injured or killed. In many of these collisions with motor vehicles, the bicycle accident victims suffered a catastrophic injury and required extensive medical treatment.
Sadly, bicyclist fatalities in New York City have been trending upwards.  27 cyclists were hit and killed in 2019, up from 10 the year before, the highest number of deaths in twenty years. The great majority of deaths were due to motor vehicle accidents.
Some New York Cyclists numbers: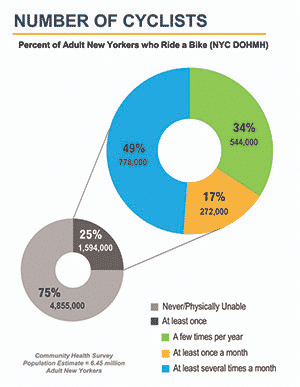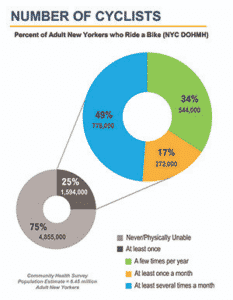 New York Bike Riding Statistics:
There are nearly 900,000 avid cyclists in New York who regularly ride a bicycle  (at least several times a month)

33% of adult New Yorkers, approximately 2 million people, ride a bike at least once a year

1,301 lane miles of bike lanes were installed in New York City as of 2019

501 lane miles of protected bike lanes were installed in New York City as of 2019

On a typical day, there are over 510,000 cycling trips made in New York City
How Can New York Bicyclists Reduce the Risk of Injury?
The New York State Department of Transportation recommends numerous precautions for bikers to prevent cycling injuries: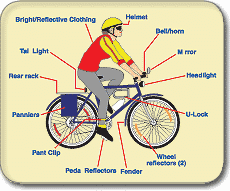 Obey Traffic Signs and Signals

- Bicycles must obey traffic rules and follow the rules of the road like other vehicles.

Always Wear your Helmet

- Bicyclists 14 years old and younger are required to wear bicycle helmets when operating a

bicycle

. Bicycle helmets must conform to the standards established by the American National Standard Institute, the American Society for Testing and Materials or the Snell Memorial Foundation at all times. In addition to wearing bike helmets, it's also wise to use other types of bicycle safety equipment like lights and reflective gear which increase your visibility when you bike at night and can help prevent many bike crash scenarios.

Never Ride Against Traffic

- Motorists aren't looking out for people who ride bikes on the wrong side of the road. State law and common sense require that bicyclists obey traffic rules like other operating vehicles, and drive together with the flow of traffic in the proper traffic lanes.

Don't Pass on the Right

- Don't pass cars on the right, as drivers may not look for or see a bicycle passing on the right.

Keep Both Hands Ready to Brake

- You may not stop in time if you brake one-handed. Allow extra distance for stopping in the rain, as brakes are less efficient when wet.