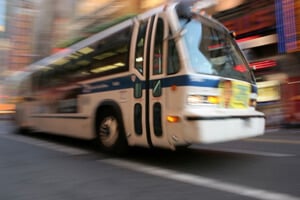 People throughout the New York region rely on buses to take them to where they need to go. They are an integral part of daily life in New York State and a critical foundation of the mass transit transportation system in metropolitan New York city under the Metropolitan Transportation Authority (MTA).

NEW YORK CITY BUS ACCIDENTS / KEY SAFETY FINDINGS
As a result of a fatal bus accident in September 2017, an independent committee reviewed the track record of New York bus companies throughout the boroughs of Manhattan, Staten Island, Bronx and Brooklyn; as well as beyond including Westchster county and Long Island. The accident that prompted this review occurred in Queens and involved three deaths from the crash of a charter bus into an MTA Q20 bus. 
Some of the key findings of that important report led to the following conclusions: 
Out of 249 bus companies with inspections data examined in the Safety Measurement System (SMS), 121 companies had unsafe driving violations recorded. 

Of these 121 companies, 51 had sufficient violations to be given a percentage value, which compares these companies to other bus companies in terms of overall safety. The higher the percentage value given, the worse the company's driver safety record. 
Ten of these companies scored at 70% or higher, meaning they are in the bottom 30% percent of companies nationwide for safety records. 

The company involved in the fatal September 18, 2017 crash in Queens, the Dahlia Group, was one of these ten companies. 

The worst four were in the 90% percentile or above. 

These ten companies had a total of 104 unsafe driving violations in the two-year period between August 25, 2015, and August 25, 2017.
Safety standards in New York are under the purview of the The Passenger Carrier Safety Bureau (PCSB) . The PCSB mandate states that it is "committed to ensuring all school buses and authorized passenger vehicles in New York State operate at the highest safety standards in the country. Our Bus Inspectors perform more than 154,000 comprehensive bus safety inspections and re-inspections annually. To accomplish this, the Bureau uses over 120 motor vehicle inspectors assigned to one of 11 regional safety inspection teams across the state. A total of nearly 60,000 buses, vans and ambulettes are subject to the NYSDOT safety inspection review every six months and over 400 safety related factors are reviewed during each inspection."
New York City School Bus Accidents
Nothing is more important than the safety of our children.
According to the Pupil Transportation Safety Institute (PTSI), a New York State-based nonprofit organization servicing the school transportation industry since 1994, there are numerous long term trends that can help us understand the dangers for our kids and school buses.
Two of the leading trends point out that:
YOUNGEST STUDENTS AT RISK!
Overall, children ages 4 to 8 (grades K-3) were most susceptible to a school bus fatality. These children, though they represent less than 35 percent of the student population, were involved in 69 percent of the fatalities (79 out of 114). The smaller stature of younger children makes them more difficult for bus drivers and motorists to see. 
These younger students are unable to see over or around objects such as parked cars or bushes.

Their hearing has not completely developed; they cannot easily tell the direction sounds are coming from.

Their vision has not developed completely; they cannot estimate the speed of an approaching vehicle. 

They are inexperienced in regard to road hazards and acting safely around school buses and traffic. 

Young children have a very short attention span and require frequent reminders to learn (and remember) a safety procedure.
MOST FATALITIES OCCURRED OUTSIDE THE BUS!
Of the 114 fatalities, 93 (81.5%) involved students as pedestrians (outside the bus) during the loading or unloading process at a bus stop or school. Students are most vulnerable to serious injury at this time because they are not inside the bus, which affords them protection. There are two specific types of loading or unloading accidents:

 By Own Bus (BOB) – A child is struck by the school bus: 
Student crossed too close to the bus and the bus driver didn't see the child. 

Child dropped something under the bus and tried to get it. 

Child slipped under the side of the bus. 

Child missed the bus and ran to catch it. 

Child's drawstring or backpack straps were caught in the handrail or door and the child was dragged by the bus.

Child crossed unexpectedly and was not seen by the driver.

2. Passing Motorist (PM) – A child is struck by a passing motorist 
Common Causes of Bus Accidents 
Unfortunately, even with the efforts of New York state and city departments as well as private initiatives, to further regulate the New York bus industry, significant safety issues still remain.
These efforts are aimed to reduce accidents both on the part of private bus companies as well as public transportation carriers. 
Poorly maintained and outdated bus equipment 

Driver tiredness and fatigue

Driver error of judgement

Speeding beyond the limit

Excessive alcohol or drug use

Lack of adequate training

Distracted drivers

Improper lane changes

Failure to see pedestrians and cars around them when making turns

Blind spots
New York City Bus Accident Injuries
Depending on the severity of the accident, a bus accident can cause an innocent victim  to suffer anywhere from minor pain to broken bones and tragically to death.  Injuries can include, but are not limited to, 
Cuts and bruises, 

whiplash, 

concussions, 

back and neck pain,

spinal cord injuries, 

traumatic brain injuries 

and paralysis. 
While some injuries may appear to be minor at first, it is imperative for victims of New York bus accidents to visit the hospital to make sure that no injury is or will become life-threatening or life altering.