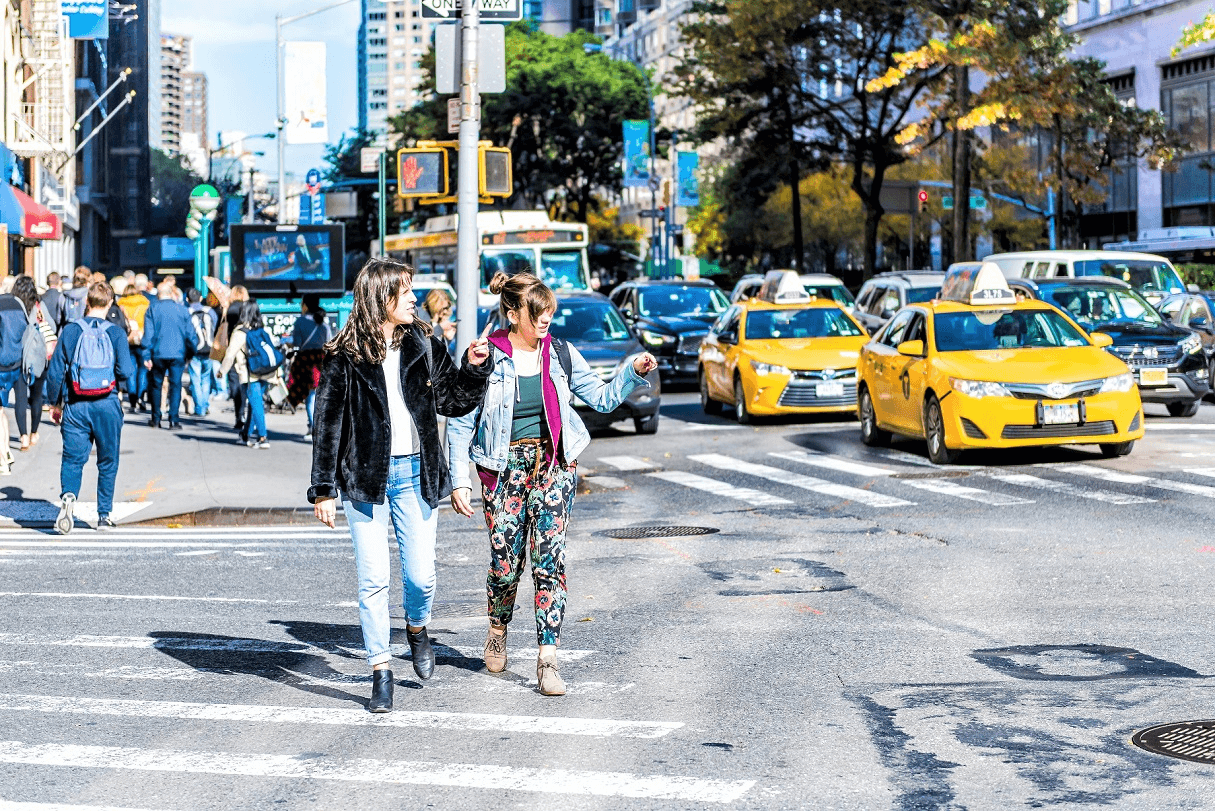 For ages, travel by foot or horse were the only options for travelers moving through cities and towns. It was normal to wake up and head about your daily life by climbing onto your horse or walking yourself down fledgling roads. 
But the turn of the 20th century brought a new class of traveler: the motorist. As cars began overtaking roads and areas took on an auto-centric design, the term "jaywalking" entered the lexicon as a new label to defend motorists from pedestrians crossing the street in what was deemed a reckless or unsafe manner. Some of the wrongs committed by the jaywalker included crossing against a traffic signal or red light, not using a designated crosswalk and not heeding oncoming traffic. 
The word jaywalking appears to have originated in 1909, found in an article within The Kansas City Star newspaper, according to Merriam Webster etymology. Its use was considered derogatory at the time, according to Merriam Webster, which explains that "For the first few years that it was in use jaywalker had little, if anything, to do with pedestrians crossing the street, and was used solely to scold those who lacked sidewalk etiquette."
The jaywalker catapulted to infamy in the 1920s, according to an analysis by news organization BBC, "as a propaganda campaign by the motor industry in the 1920s." Historian Peter North told BBC that as a result of a variety of funding and outreach efforts by Big Auto in Detroit, "the newspaper coverage quite suddenly changes, so that in 1923 they're all blaming the drivers, and by late 1924 they're all blaming jaywalking." Thus the rise of the jaywalker was essentially part of a campaign by the automobile industry, its lobbyists and supporters to trample pedestrian rights. 
Today, walking can be one of the fastest ways to get around some of America's largest cities. Savvy pedestrians have arguably the most mobility, able to traverse streets in ways that cars cannot. Yet when pedestrians are involved in an accident involving a motor vehicle, they are some of the least protected parties by insurance companies.
In the United States, jaywalking is considered in violation of traffic laws and may be enforced by police as an infraction or misdemeanor. Marked crosswalks are painted onto roads to provide guidance to pedestrians crossing at intersections. Some jurisdictions prohibit pedestrians from crossing diagonally, or against oncoming traffic. Meanwhile, jaywalking is still not a globally accepted part of traffic laws. Pedestrians still have the right-of-way in countries such as Finland, Italy, Switzerland and the Netherlands, and there is no law preventing jaywalking in the United Kingdom.
Pedestrians Suffer High Rates of Personal Injury in Car Accidents
In 2017, according to the National Highway Traffic Safety Administration, 5977 pedestrians were killed in motor vehicle accidents, or about one pedestrian every 88 minutes. And emergency departments treated 137,000 injured pedestrians that year. Whether you label these pedestrian accidents or jaywalking accidents, the fact remains that being a pedestrian in a motorist-dominated area isn't safe. The National Highway Traffic Safety Administration estimates that "per trip, pedestrians are 1.5 times more likely than passenger vehicle occupants to be killed in a car crash."
Meanwhile, the tide is turning in favor of pedestrians, as urban cities look to add more greenspace and foot-friendly features to their designs. The backlash against insurance company use of jaywalking to persecute injured pedestrians is growing. An October 2020 article released by news organization Bloomberg CityLab called for the elimination of jaywalking laws in the U.S., calling them "a made-up thing by auto companies to deflect blame when drivers hit pedestrians." The writers continued to say that the concept is"enforced unfairly" and "encourages aggressive driving" in a time when "the safest countries globally allow jaywalking." And a 2014 study by the Federal Highway Administration has already determined that environmental factors could determine the magnitude of jaywalking within a city and whether a pedestrian crossing was safe.
Jaywalkers Not Necessarily The Fault Party
Although the taboo behind jaywalking may be fading, insurance companies and insurance adjusters still look to blame pedestrians. In personal injury cases involving motor vehicles and an injured pedestrian, U.S. insurance companies today may try to use jaywalking as an excuse to blame injured pedestrians in some car accidents. One reason for this is to avoid paying out on medical bills. 
But an injured pedestrian is not always at fault in accidents involving motor vehicles and an injury claim by a pedestrian in such situations may have merit. A strong law firm can represent a pedestrian who exercised due care to avoid being hurt in a car accident, especially a pedestrian crossing with respect to traffic laws, traffic signals, unmarked crosswalks and rules of the road. 
So yes, with the understanding that the injured pedestrian is most often not the at-fault party, injury lawyers are keen to represent pedestrians in pedestrian accidents, but must first look at the facts of every case. The Rothenberg Law Firm's team of personal injury attorneys will help you determine if you have a case. Contact our firm for a free consultation.