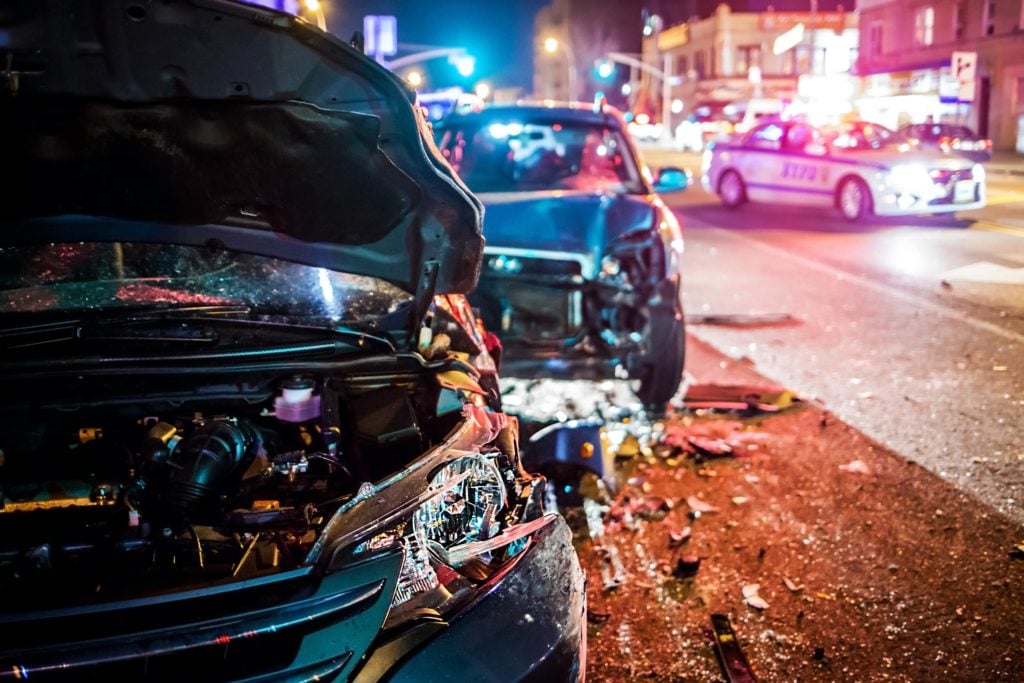 Learn more about the common causes of injuries during car crashes and ways to stay safe this fall in New York City. 
New York City has a lot going on, so it is important to stay alert on the road at any time of the year - especially in the fall when it starts getting darker earlier and earlier every day. Whether you are a pedestrian, cyclist or driver, be aware of your surroundings and travel smart wherever you go.
Data from the New York City Police department outlines the top reasons for car accidents in NYC. The data reveals how distracted driving and other common factors can lead to car crashes and injuries on busy streets.
What Are the Leading Causes of Car Crashes in New York?
Data from the NYPD's TrafficStat website shows that to date, there were 158,189 total collisions in 2019, with driver inattention and distractions accounting for nearly a third of all crashes. In August alone, there were 16,954 collisions citywide, with nearly a third of all crashes caused by distracted driving. An August monthly traffic report (PDF) from NYC.gov shows that distracted driving was the leading cause of all vehicle crashes in every borough during the month of August. 
The next two most common causes of vehicle crashes in NYC are "following too closely" and "failure to yield for vehicles with the right of way."
NYC.gov reports that in August alone, drivers following others too closely caused 1,750 collisions, or 10% of all NYC collisions, and failure to yield caused 1,175 crashes or 6% of all August collisions. These three contributing factors caused the most crashes over the whole year in all of the boroughs, except Manhattan and the Bronx. Manhattan's third highest cause of crashes in August was improper lane changing and passing, and the Bronx's third leading cause of crashes was backing up unsafely. 
Which Boroughs Have the Most Traffic Collisions? 
The August traffic data also shows us where most traffic collisions are likely to occur in New York City boroughs.  The highest number of vehicle crashes in August occurred in Queens (5,202 crashes), followed by Brooklyn (5,120 crashes). Comparatively, Manhattan saw 3,296 crashes in August, followed by the Bronx (2,788 crashes), and Staten Island (548 crashes) in August.  
Vehicles most commonly involved in accidents in New York City are passenger vehicles (14,066 crashes in August) and sports utility vehicles and station wagons (11,868 crashes in August). Following are large commercial vehicles (involved in 1,390 crashes in August) and taxis (involved in 1,293 NYC crashes in August). The August report also shows 11 pedestrians killed in vehicle crashes and 700 injured, and 468 cyclists injured and 1 killed in just one month. 
What Types of Crashes are Most Likely to Cause Injuries?
In 2019, there have been 42,219 total rear-end collisions. 9,504 of rear-end collisions—almost a quarter—caused injuries. This makes rear-end collisions the leading type of collision to cause injuries this year, followed by unknown crash types and side-swipe incidents, which led to 4,960 injuries in New York City.
As we enter the fall season, people traveling in NYC should be aware of changes in daylight savings. They should remember to wear bright and reflective clothing when walking at night or riding a bicycle. During the autumn months, drivers should be aware that there will be more people on the street traveling to and from school/work at dusk, so drivers should always be alert and obey traffic laws.
Traffic Safety Tips for Fall 
Unfortunately, vehicle accidents happen all the time in New York. We must learn from the data and try to make NYC roads safer!
R

emember to stay off of cell phones while driving and avoid all distractions behind the wheel. 

Drivers should always yield to pedestrians who have the right of way at crosswalks.

Drivers should make sure they know when to yield to other vehicles that have the right of way.

Drivers should always make sure their mirrors are positioned so that they can see all other vehicles trying to pass on the left, and make sure they can see everything behind them when they are backing up. 
In addition to the above, you can review the following safety tips from New York State to lower your chances of being involved in a crash or causing a motor-vehicle accident with the changing season this fall. 
With school starting again, watch out for

school buses and children

. By law, drivers must stop if they are following or approaching a school bus with its red lights flashing. Remember, STOP, do not pass when school bus red lights are flashing.

With Daylights' Savings ending on Sunday, November 4, remember to turn back your clock and make sure you are not driving drowsy.

Drowsy driving

crashes are much more common during the first few weeks after the time change.

In addition, drivers should be aware that they may be commuting in the dark more frequently than in the summer months. Be extra vigilant of pedestrians, and wear glasses while driving if you need them.
If you have been injured in an auto collision in New York City, or are a pedestrian or cyclist that has been struck by a motor vehicle in any of the 5 boroughs, contact a New York City personal injury lawyer to see if you are entitled to compensation.