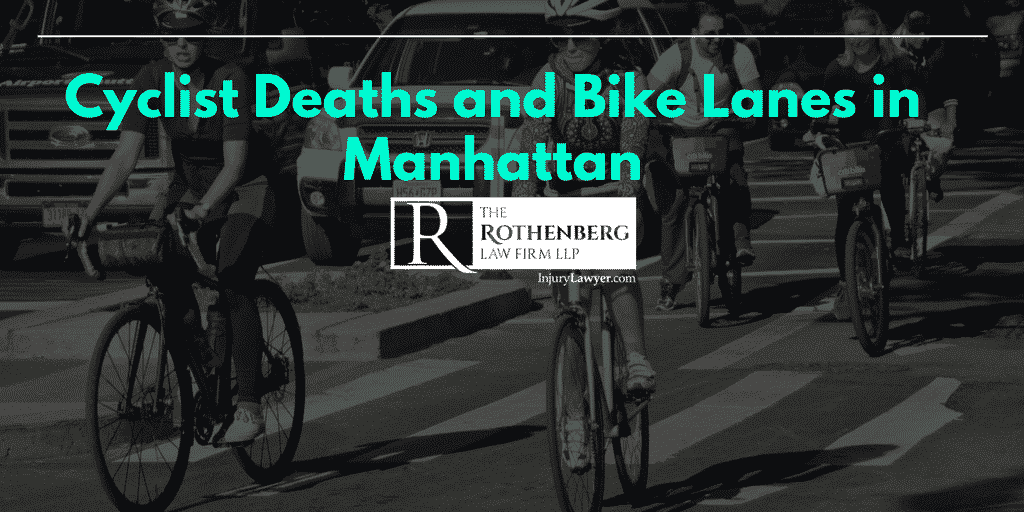 After Bicyclists Killed in Manhattan, NYC Plans Crosstown Bike Lanes in Midtown
Do bicyclists in New York City have a safe way of traveling from one part of Manhattan to another without being at risk of a bicycle accident? According to a recent report in The New York Times, despite the fact that many New Yorkers have turned to cycling as a primary means of transportation, bicyclists do not have "a way to pedal across Midtown Manhattan without coming dangerously close to traffic." A number of deadly bicycle accidents happened in 2017, leading officials in the city to reconsider bike lanes and cyclist safety.
Currently, plans have been put in place to "install protected crosstown bike lanes that would be flanked by a sidewalk curb on one side, and a row of parked cars on the other." The bike lanes, once implemented, will be the first ones in the borough that "stretch almost all the way from the East River to the Hudson River." The majority of protected bike lanes in Manhattan currently run from north to south, and as such, cyclists do not have a safe way to travel in a crosstown direction. A number of these protected bike lanes have been planned. The first two are being planned on 26th Street headed east and on 29th Street headed west. There is currently no bike lane on 26th Street, while the planned lane on 29th Street will replace a current bike lane that only separates cyclists by a line of paint.
Each of the lines will be approximately 1.8 miles in length, and city officials anticipate that they will be completed and in use by the end of 2018. In addition to these two bike lanes, two additional lanes have been planned on 52nd Street and on 55th Street. Last year, five cyclists sustained fatal injuries in crashes that occurred between 14th Street and 59th Street. According to Polly Trachtenberg, the NYC transportation commissioner, these deaths have prompted an urgency in the construction of protected bike lanes. At the same time, officials in the city have known for quite some time that NYC cyclists need these protections. As she clarified, "this is a
key part of the cycling network we need to build out in Manhattan."
Safety Tips for Motorists to Prevent Bicycle Accidents
While protected bike lanes are in the works in Manhattan, what can drivers do to help prevent deadly accidents? An article from Edmunds provides the following safety tips:
Recognize that bicyclists are vulnerable, and think about it anytime you are sharing the road with a cyclist;

Understand cyclists' rights and be aware that you need to share the road;

Do not think that cyclists are "in your way," but rather adjust your attitude to one that acknowledges cyclists have just as much of a right to be on the road as a motorist;

Do not get impatient with cyclists who are sharing the road and may be going below the maximum speed limit;

Remember that cyclists  are often preventing more cars from being on the road and thus decreasing motorist traffic;

Be especially carefully whenever you are making a right or a left turn, given that it can be difficult to see a cyclist;

Provide at least three feet of clearance to bicyclists around you on the roadways;

Do not get distracted, and do not use your cell phone if you are driving; and

Look twice before you open your car door to exit to prevent "dooring" a cyclist.
In the event that you were injured in a bicycle accident, contact an experienced bicycle accident lawyer to determine your rights.