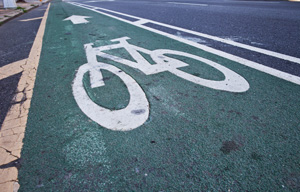 Bicycle Crash Kills Pedestrian in Central Park
Are bicycles a leading cause of pedestrian fatalities in New York City? According to a recent article in The New Yorker, bicyclists have been responsible for numerous serious accidents and injuries, including several fatalities, in New York City's Central Park.
How do these bicycle accidents happen?  Late last month a bicyclist struck a 58-year-old pedestrian in Central Park.  The victim sustained a traumatic brain injury and died three days later as a result of the crash.  This recent accident is actually the second of its kind in the last two months.  At the beginning of August, a bicycle struck and killed a 75-year-old teacher who had been training for the New York Marathon.
What kinds of bicyclists cause these accidents, and who is to blame? Many different types of bicyclists frequent the Central Park paths and have been involved in dangerous crashes.  According to the article, "racers who careen along the park's six-mile loop, treating it as their private velodrome," as well as "tourists who blithely pedal the wrong way, or in the wrong lane, or both simultaneously," are an example of some of the dangers pedestrians face.
Pedestrian Fatality Statistics and Safety
How many accidents occur each year involving bicyclists and pedestrians? According to the New York City Department of Transportation, 309 crashes occurred in 2013 alone, which represented an increase of more than 25 percent from 2012.  Back in 2012, the Department of Transportation cataloged a total of 243 collisions.
Data from the NYPD suggests that "enforcement seems to have largely declined in recent years."  What do the numbers looks like?
Between January and May of 2013, the NYPD issued 11,442 citations to bicyclists.
That number declined dramatically in the same period a year later, when the NYPD issued only 3,269 citations to bicyclists between January and May of 2014.
How can you stay safe if you are walking in Central Park?  According to the Centers for Disease Control and Prevention (CDC), walkers should take some of the same safety steps as if they were trying to protect themselves from a motor vehicle collision.  Therefore, regardless of whether you are concerned about oncoming motor vehicles or bicyclists follow these safety tips:
Cross the street at a crosswalk wherever possible.
At intersections where a driver (or a bicyclist) might fail to yield to pedestrians, take particular caution.
If you are walking at night, make sure to wear visible clothing or carry a flashlight so that a bicyclist can see you.
Walk facing oncoming traffic if there is no pedestrian sidewalk available.