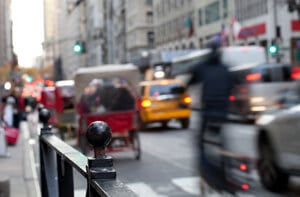 Fatal Bicycle and Pedestrian Accident
Fatal pedestrian accidents and traffic collisions happen too frequently on the streets of New York City, but do fatal crashes also happen on footpaths in Central Park? According to a recent story from CBS New York, a 17-year-old bicyclist struck and killed a 75-year-old jogger in Central Park earlier last month.
How did the accident happen? The victim had been training for the New York City Marathon on East Drive in Central Park when he was fatally struck by the bicyclist. He sustained serious head trauma in the collision and died as a result of his traumatic brain injury just two days later at New York Presbyterian Hospital.
We often worry about bicyclists being struck by oncoming motor vehicles. But are pedestrians safe from speeding cyclists?
Pedestrian and Bicycle Safety
The Federal Highway Administration (FHWA) reports that pedestrian fatalities account for about 12 percent of all fatal traffic collisions each year. In terms of numbers, that is about 4,000 fatal pedestrian incidents annually. That figure does not account for the number of pedestrians who sustain serious and debilitating, but not fatal, injuries. Nearly 60,000 pedestrians suffer severe and life-threatening injuries each year in traffic related incidents.
Bicyclists also sustain a number of injuries and fatalities each year, according to the National Highway Traffic Safety Administration (NHTSA). In 2010, more than 600 bicyclists suffered fatal injuries in a collision, which amounts to nearly 2 percent of all fatal traffic-related accidents.
Importantly, not all of these collisions occur in roadways. In fact, NHTSA maintains "Not-in-Traffic" surveillance, which measures the number of pedestrian and bicyclist accidents that do not tend to involve motor vehicles.
Given the large number of non-motor vehicle related injuries that occur each year, it is important to take safety precautions whether we are on a roadway or on a footpath. Collisions can occur almost anywhere, and pedestrian safety is an important concern even in walker-friendly places like Central Park.