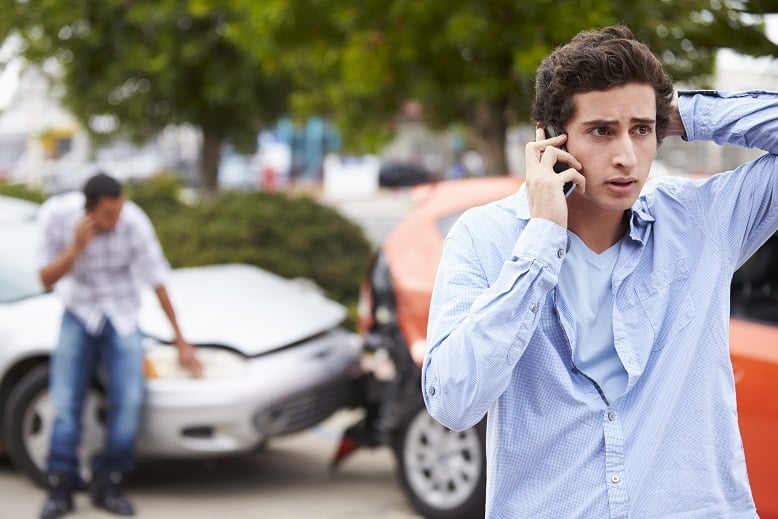 Getting a driver's license is an exciting milestone for teenagers, but for their parents, it's more likely a cause of much excitement and anxiety. According to the CDC, teenagers aged 16-19 are at a higher risk of experiencing a car crash than any other age group. As you might expect, a teen's lack of experience makes the risk of a car crash particularly high during their first year of driving. At the same time, teens are sometimes distracted by their smartphones and other devices, exacerbating the problem.
Although your teenager will hopefully avoid getting into an accident, it's important to prepare them in case they do. Here are some simple steps you can take to help them be prepared:
Remind them not to Panic
Very often, a teenager's natural reaction when they're involved in an accident is to panic. "Mom and dad are going to kill me!"  Your first job is to remind your teen to take a deep breath and stay calm, so they can take the steps necessary to protect themselves.
Be Prepared
Prepare an emergency kit for your teen's car with a list of steps they should take in case of an accident. Include a pen, pad, and registration and insurance information. Also, make sure to include a first aid kid and important phone numbers. 
First Steps: Ensure your Safety
Explain to your teen that after an accident has occurred, their priority is to ensure their safety. Here are a few basic tips to share with them:
If someone has been injured, call 911 immediately.  If there are no injuries, and even if the accident is minor, call the police. 

If the damage is minimal, put your hazard lights on and carefully move the car away from traffic.  Ideally, move your car to the right shoulder of the road, but when this isn't possible, try your best to move away from active lanes of traffic.
Gathering and Sharing Information
Once your teen is safe and calm, their next priority is to record as much information about the accident as possible.  Encourage your teen to:
Write down the other driver's name, insurance provider and policy number.  

Take photos of the cars and people involved in the crash, the other driver's license plate and the scene of the accident.
Your teen may share his name and auto insurance information with the other driver, but should not share anything more. If the other driver asks to take a picture of your teen's license, your teen should refuse, as doing so could lead to identity theft.
Finally, your teen should not say anything to the other driver or witnesses at the scene about being at fault in the accident.  
The Police
When the police arrive, they will fill out an official accident report and tell your teen when it is permissible to leave the scene of the accident.  If the police decline to come, your teen can still ask the dispatcher for advice if they are unsure of what to do.
After the Accident
If anyone in the car was even slightly injured, it's important to seek medical attention, as not all injuries are readily apparent.  Seeing a medical professional is important for your health, and it can also be helpful if you later decide to make a legal claim.

While the events leading up to the accident are still fresh in your teen's mind, have them write down as much information as they can remember. They should record the time of the crash, weather and traffic conditions, and anything else pertinent to the crash that may strengthen your claim.

Remember to call your insurance company to report the accident. 
When to Contact an Attorney
If your teen is injured in a car crash, you should contact an experienced injury lawyer even before you speak to the insurance company or an insurance adjuster, to ensure you are protected from those who want to hurt your case. The attorneys at The Rothenberg Law Firm LLP have decades of experience handling and winning car accident lawsuits.  There is absolutely no fee to contact our office. Your initial consultation with our car accident lawyer is always FREE and we don't get paid  unless and until we are successful in getting money for you.