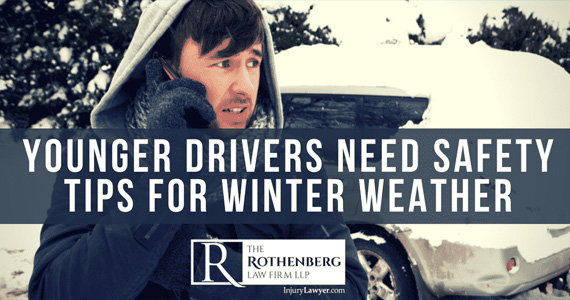 Whether there is snow on the ground or freezing rain begins to fall unexpectedly, winter driving conditions can be hazardous for drivers of all ages and can result in car accidents. As a recent article in Consumer Affairs explains, almost 900 people sustain fatal injuries in winter weather-related traffic collisions each year, while around 76,000 suffer nonfatal injuries in these crashes. Teen drivers, who have less experience behind the wheel than older drivers and tend to engage in distracted driving more frequently, can be at a higher risk of a car crash when they need to drive in wintry conditions. Indeed, according to a recent study by Students Against Destructive Decisions (SADD), more than 70% of high school seniors admit to using their phones while they are driving, regardless of whether there is inclement weather.
What can parents do to help ensure that their teens stay safe on winter roads? First, if possible, avoid driving when there is bad weather. Even drivers with significant experience cannot always handle icy roads or slick driving conditions. If the bad weather happens unexpectedly, one of the most important things to do is make sure that your teen's vehicle is prepared for the drive. You should teach your teenager to fill up on gas before embarking on a cold, snowy drive in the event that he or she gets stuck.
Similarly, your teen should keep an emergency kit, as well as a cell phone charger, in the vehicle. The emergency kit should have supplies that could be helpful if the teen gets stuck in a blizzard, like a warm blanket, nonperishable food, a flashlight, and emergency flares. Your teen's vehicle should also be outfitted with "a quality set of windshield wiper blades."  
Teen Winter Driving Tips and Accident Statistics
In addition to preparing your child's vehicle, teens should also learn important tips for winter driving. Most importantly, your teen should know to "turn into the slide" if she or he hits a patch of ice or snow. In other words, if the car starts to slide, the driver should take his or her foot off the gas and steer the car in the direction he or she wants it to go. In addition, teens should learn to keep a longer following distance between vehicles in the event that there is a need to stop quickly in icy or snowy conditions. Finally, your teen should learn to pull over to a safe spot and wait if the conditions are too bad to drive in. Winter conditions in which drivers should consider stopping include "freezing rain, black ice, and whiteout snowstorms."
 Why do we need to prepare teens for winter driving and car accident risks? The following statistics from the U.S. Centers for Disease Control and Prevention (CDC) emphasize the problems associated with teen driving:
• More than 2,300 teens died in car accidents in 2015;
• More than 221,000 teenagers sustain serious injuries that require treatment in emergency departments each year;
• Six teens die every day as a result of a car accident;
• While teen drivers (those aged 16 to 19) represent only 7% of the population, they are responsible for 11% of all traffic crashes;
• Teens are about three times as likely as older drivers to be involved in a fatal accident;
• Motor vehicle crash risk is the highest during the first months in which a teenager has a driver's license; and
• Teens' low rate of seatbelt use results in more serious and fatal injuries.  
If you or your teenager were injured in a car crash, contact a car accident lawyer to learn more about your rights.