Carriage rides are a popular tourist attraction in major and historical cities throughout the United States. The very nature of the activity, however, involves the unpredictable temperament of the horses that draw them, which can sometimes have dangerous consequences. Horses, though, cannot be blamed solely for these accidents. This is because the negligent, sometimes criminal, actions of motorists and the actual carriage operators are responsible for the majority of carriage accidents. Carriage and horse lawsuits are common in busy cities and towns due to the convergence of carriage, automotive, and foot traffic.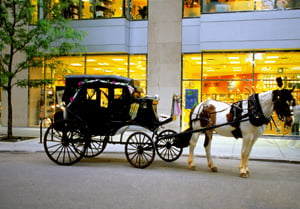 Controversy and Differing Equine Liability Laws
In some cities, particularly New York and Philadelphia, there is sharp controversy over whether the carriage and horse industry should even continue to exist. The arguments of groups such as the Peace Advocacy Network (Philadelphia) and the New Yorkers for Clean Livable & Safe Streets (NYCLASS) are centered on protecting the horses and city street sanitation. However, the risks that carriage passengers face from cars and negligent operators are equally severe.
States differ in their treatment of horse, or 'equine,' liability laws. Some states, like Wisconsin, hold that the sudden lurching, or forward movement, of a horse should be considered as an assumed, or inherent, risk of equine activity. Also, if a person has some level of control over the horse, like driving the carriage, some equine liability laws consider this level of engagement in equine activity enough to prevent them from receiving compensation for damages suffered. However, other states, like Tennessee, consider mere passengers in a carriage who are not driving the carriage to not be participating in equine activity.
Inherent risks are assumed by those who participate in activities (injury in sports, rolling ATVs while off-roading, etc…). It is a common practice for a person, before engaging in any adult recreational activities which include even moderate levels of risk, to be asked to sign a waiver, consent, or release of liability form. Waiver forms can sometimes be misleading, overbroad, or legally dense. Victims of these accidents, who wish to purse a carriage and horse lawsuit, are strongly advised to consult with a lawyer before seeking compensation for the carriage company.
Securing Legal Representation  
If you or someone you know has sustained injury due to a carriage and horse accident, please contact a lawyer at The Rothenberg Law Firm LLP immediately at 1-800-624-8888 or submit a FREE online case evaluation at InjuryLawyer.com. Even if you signed a liability waiver, you may qualify to bring legal action for monetary damages, medical costs, negligence, and other damages.
There is NO CHARGE for the initial consultation. If we agree to take on your case, we will work on a contingency fee basis. Meaning, we collect legal fees for our services only if we successfully secure you monetary compensation.
These kinds of claims are usually time-sensitive, needing to be filed before a pending expiration date, known as the Statute of Limitations. It is vital to the success of your claim to contact us immediately in order to ensure you do not waive your legal rights.