Few things are as terrifying as being attacked by a dog. Such an attack can leave the victim severely injured and traumatized. The injuries can be fatal, particularly if the victim is a child or elderly.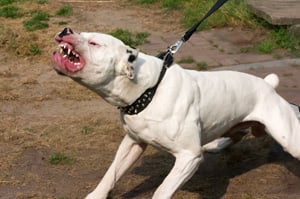 Many states have statutes which hold the owner of the dog strictly liable for the dog's behavior if the attack is unprovoked, or the victim did nothing to cause the dog to attack in self-defense. It does not matter where the attack took place, and may not matter if the attack is the first for the animal. In some states, a dog gets "one bite." This means that the owner is not presumed to know that the dog is dangerous until an attack has occurred. Dog bites lawyers are knowledgeable of the different state laws concerning dog attack statutes.
Limiting Liability for Dog Owners
As an owner, steps can be taken to minimize the possibility of your dog biting someone:
Spray or neuter your dog.
Do not teach your dog to play roughly.
Be sure your dog has up-to-date vaccinations.
Take your dog to obedience classes so it becomes accustomed to obeying voice commands.
Never leave babies or small children with a dog unless an adult is present.
Keep your dog in a fenced-in yard; do not allow it to roam.
Protecting Yourself from Dog Bites
Basic safety tips include:
Leaving strange dogs alone.
Never approaching any dog while it is eating, sleeping, or caring for puppies.
Never trying to pet a dog until you have let it see you and smell you.
Never leaving children alone with any dog.
Never being aggressive with a dog, staring it in the eye, or running from it.
If a dog does attack, stay still and calm.
If a dog knocks you down, roll into a ball to protect yourself.
If you are attacked, seek medical aid quickly. Try to find out who the owner is, but medical help is the first priority.
Seeking Damages for Dog Bites
If you or a loved one has suffered a dog bite, contact a dog bite lawyer at the Rothenberg Law Firm LLP at 1-800-624-8888 or submit an InjuryLawyer.com online free case evaluation.
The initial consultation is FREE of charge. We work on a contingency fee basis. Meaning, if we agree to handle your case, there are no legal fees unless we are successful in getting you money.
Some lawsuits need be filed before an impending expiration date, known as the Statute of Limitations. Therefore, call or contact us right away to ensure that you do not waive your rights to money damages or other benefits.