Motorcycles symbolize the freedom of the open road. Unfortunately, cyclists are more vulnerable when an accident occurs. Those who survive a serious accident may take years to recover. Many will never work again or be employed in the same position they had before the accident.
A Hackensack motorcycle accident lawyer at The Rothenberg Law Firm will fight for you so that you receive the compensation you deserve for your injuries. When you need a full-service law firm that has the experience you need, you can depend on our team. Our firm handles cases on a contingency fee basis, this means we do not take any money from you unless and until we are successful in winning your case.
Motorcycle Accident Statistics
According to the New Jersey Division of Highway Traffic Safety, motorcyclists are 28 times more likely to die in a motor vehicle accident. They are also five times more likely to sustain injuries. In any New Jersey motorcycle accident, the motorcyclist has an 82 percent chance of injury. Finally, more than half of all motorcycle accidents involving other vehicles happen at intersections. Of these, over 66 percent resulted from the driver failing to see the motorcycle.
Types of Motorcycle Accidents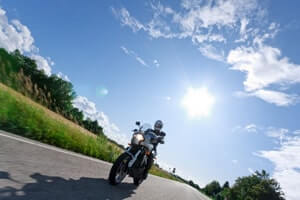 Some of the most frequent types of motorcycle accidents include:
Head-on collisions
Rear ending
Sideswipes
T-bone collisions
Common Causes of Motorcycle Accidents
Common causes of motorcycle accidents include the following:
Cars failing to yield on a left-hand turn
Distracted driving
Driving under the influence
Parked car doors opening on a passing motorcycle
Driver inexperience
Inclement weather
Lane splitting
Road hazards
Speeding
Motorcycle malfunctions may also play a role in some accidents.
Motorcycle Accident Injuries
Because motorcycles do not offer any protection, as with an automobile, a motorcyclist's body receive the full impact of any collision. That is why injuries are usually serious and often fatal.
Common motorcycle accident injuries include:
Amputation
Broken bones
Disfigurement
Internal bleeding
Paralysis
Road rash
Traumatic brain injury
Steps to Take After a Motorcycle Accident
Because many motorcycle accidents result in severe, life-threatening injuries, many victims cannot take any steps after an accident and must hope that someone has called 911. However, if you are able, do the following:
Call 911 immediately. Never leave the scene other than to receive medical care.
Exchange insurance and contact information with the other driver. If there were eyewitnesses, obtain their contact information.
Take photos of the scene, including all vehicles involved, as well as your visible injuries.
Always seek prompt medical attention. Perhaps you feel you were not hurt in the crash, but even serious injuries may not appear immediately. For instance, internal bleeding is not always obvious until it becomes life-threatening.
New Jersey Motorcycle Safety Laws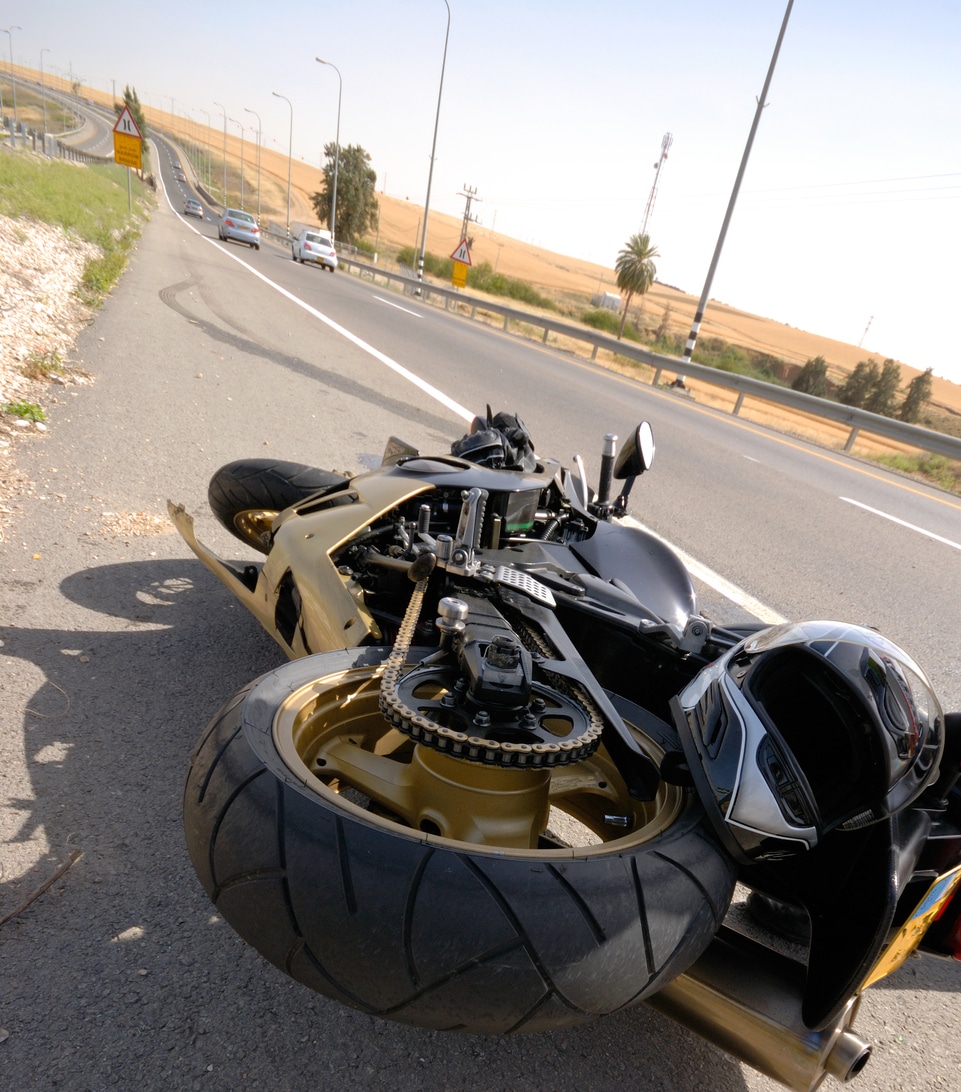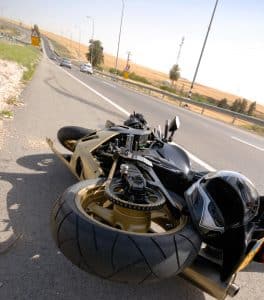 New Jersey's motorcycle safety laws are relatively strict. For example, anyone operating or riding a motorcycle must wear a DOT-approved, securely fitted protective helmet. The helmet requires either a neck or chin strap, as well as reflectors on both sides. Unless the motorcycle has a windscreen, all riders must wear protective eye gear. All passengers must have a seat.
Motorcyclists must also possess a license. To register the bike, the owner must carry the minimum liability insurance. However, it is wise to purchase as much coverage as you can.
Motorcycle Accident Damages
Damages, or compensation, in a motorcycle accident case may include the following:
Medical expenses, current, and future
Lost wages
Loss of earning capacity
Pain and suffering
Compensation depends on various factors but primarily on the severity of the injury. For example, those suffering catastrophic injuries from the accident may require lifelong care and no longer have the ability to live independently which will be factored into the amount of compensation awarded.
In a wrongful death case, damages may include the following:
Final medical expenses
Funeral expenses
Burial costs
Loss of financial support
Loss of companionship, care, and guidance
The value of household services performed by the deceased
How Our Hackensack Motorcycle Accident Lawyers Can Help
If you were injured in a motorcycle accident, you likely have a long road to recovery. Likewise, if a family member was killed, you are dealing with trauma and loss. A Hackensack motorcycle accident lawyer from our firm can help you during this difficult time. We will handle your claim so you can focus on recuperating or rebuilding your life without your loved one.
The statute of limitations to file a personal injury lawsuit in New Jersey is two years from the accident date and filing a wrongful death lawsuit is also two years. Therefore, it is essential to obtain legal counsel as soon as possible. Waiting too long can mean valuable evidence disappears.
We will engage in the often-complex negotiations with the insurance companies and fight for you to receive the maximum compensation for your injuries. While many motorcycle accident cases are settled, we will pursue your case through trial in court if the insurance company refuses to offer you maximum compensation.
Contact us for a free consultation
If you or someone or a loved one was seriously injured in a motorcycle accident because of another party's negligence, contact a personal injury attorney at The Rothenberg Law Firm today. Call to discuss a wrongful death lawsuit if a family member was killed. Under state law, the estate's representative must file on behalf of the deceased's family. Schedule a free, no-obligation consultation where we can answer all of your questions. Our lawyers work on a contingency basis, so there is no fee unless you receive compensation.