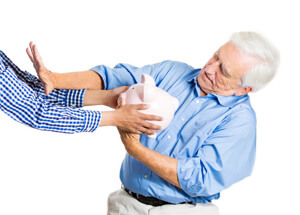 New Report Shows Financial Abuse Targeting Seniors
Is your parent or elderly loved one currently residing in a nursing home or assisted living facility? If so, you should always be on the lookout for signs and symptoms of physical elder abuse or nursing home neglect. You should also be aware of the possibility of financial abuse as well. A recent report released by New York state senators, Patrick M. Gallivan and David Valesky, suggests that "financial abuse toward New York's seniors may be more prevalent than initially thought."
Based on data collected by the New York State Office of Children and Family Services, there is likely to be a substantial rise in the number of cases of financial abuse toward older adults in the next two decades. Indeed, by the year 2030, "nearly 200,000 incidents are predicted to occur." The likely rise in financial abuse has a direct connection to the increase in the population of senior citizens, particularly in New York. Did you know that New York has the third largest population of elderly Americans? As baby boomers continue to age, the number of older adults in the state will continue to grow.
Why is elder financial abuse such a significant problem? According to Gallivan, older adults may have substantial savings and other financial assets, but "they lack the capability to manage these items as they age and begin to suffer cognitive illnesses, such as Alzheimer's or dementia." As a result, seniors are particularly susceptible to financial abuse, which can include the theft of various forms of property.
The largest problem with handling financial elder abuse in New York, according to Gallivan and Valesky, is that the state "lacks a statutory definition for prosecuting elder abuse." Instead, any prosecution of elder financial abuse has to use separate definitions of "adult abuse" and "financial exploitation" that do not get to the heart of the problem.
In order to tackle the looming issue of financial elder abuse in New York, Gallivan and Valesky are pushing for new legislation that will deal with some of the following:
Preventive measures when it comes to deceptive financial transactions;
New data collection methods to track the incidences of financial elder abuse across the state; and
Amendment of existing laws "to stiffen penalties and deter criminal acts from occurring in the first place."
Financial Elder Abuse Facts and Figures
How widespread a problem is financial elder abuse? According to data collected by the National Adult Protective Services Association (NAPSA), about 5 percent of all older adults have indicated that they have been victims of some form of financial mistreatment.
Who typically commits elder financial abuse? Nearly anyone involved in the life of an older adult can be implicated in financial exploitation schemes. More often than not, the elderly are victimized by people they believe they can trust, such as:
Family members, including their children;
Doctors, nurses, medical staff, and other caretakers;
Neighbors, friends, and acquaintances; or
Financial advisors.
In addition to crimes committed by those already involved in the life of an elderly victim, strangers also prey upon older adults with financial scams. These can include lottery or sweepstakes scams, home repair scams, charity scams, telemarketing scams, and many others.