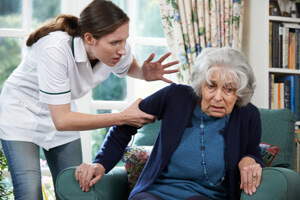 Report Alleges that Nurses Abused and Neglected Bleeding Patient 
How important are surveillance cameras when it comes to preventing nursing home abuse and neglect? While cameras may not always serve as a deterrent, a recent article from NBC 4 New York reported that a surveillance camera at Peninsula Nursing and Rehabilitation Center caught what is alleged to be a particularly egregious case of nursing home abuse. According to the report, two nurses and one nurse's aide at the Far Rockaway Facility allegedly dragged a "disabled, bleeding patient across the hallway" at the facility and then neglected to treat the patient's bleeding head wound for about 20 minutes.
The nursing home installed the cameras to ensure patient safety, and the facility emphasized that it reviews the tapes every day. After an employee reviewed the tape and saw the nurses dragging the patient, the nursing home contacted the New York attorney general's office. The nursing home emphasized that it "has zero tolerance toward any type of misconduct," including "abusive or negligent behavior by staff toward patients." The facility installed the video surveillance system back in 2013, and it is cooperating with the attorney general's office. The three nurses charged with the crimes described above either resigned or were fired while the nursing home investigated the allegations of abuse and neglect.
Signs of Elder Abuse and Neglect
Not all nursing homes have video surveillance. Moreover, those that have cameras may not always report the abuse. Therefore, it is important to pay attention to the signs and symptoms of physical elder abuse at nursing homes.
According to the Administration on Aging (AoA), signs of physical abuse can include but are not limited to:
Bruising;
Pressure marks;
Broken bones;
Abrasions; and
Burns. 
Signs of neglect can also include broken bones (from an untreated fall, for instance), but generally speaking, the following are some of the most common signs of nursing home neglect:
Bedsores;
Poor hygiene;
Weight loss;
Unattended medical conditions; and
Lack of necessary medical products.
Are you concerned that your elderly loved one may have been the victim of elder abuse or neglect? Contact an experienced nursing home abuse attorney to determine your rights.