When we meet with friends for a quick bite, scan store aisles, or enter the workplace, it's the business owner's duty to keep the property clean and free of hazards. No one expects to slip, but all it takes is a simple trip and fall on the premises to have a devastating accident.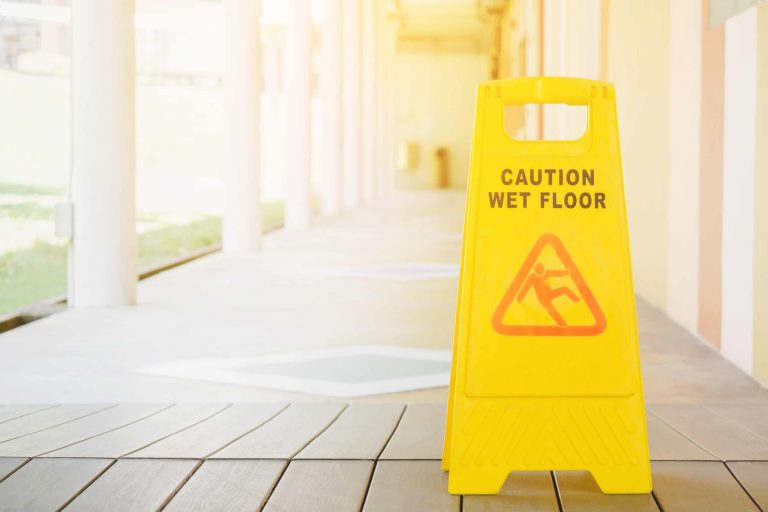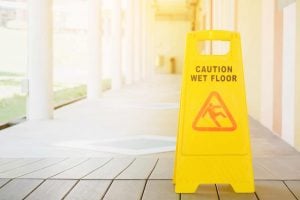 Wet floors, food debris, broken handrails, and defective floor mats easily cause injuries when unmarked, unnoticed, or neglected. Trips, slips, and falls are so common you might not think much of it. However, as the leading cause of emergency room visits in the US, it is important to know your rights when it comes to slip and fall accidents. 
No matter the cause of your slip and fall, it's important to remember that property owners are obligated to keep premises safe for others. These accidents can lead to serious injuries requiring time off work, emotional distress, and require expensive medical care. If you or a loved one has suffered serious injuries in a slip and fall accident, contact our Philadelphia slip and fall accident lawyers at The Rothenberg Law Firm for a free case evaluation today.
Frequently Asked Questions about slip and fall cases?
What is a slip and fall case?

Common causes of slip and fall cases

What should I do after a slip-and-fall accident?

How much does a slip and fall case cost?

How does a slip and fall attorney determine who is at fault for my accident?

What are the benefits of hiring a lawyer for a slip and fall case?

How much money is my Philadelphia, PA slip and fall case worth?

Why choose our Philadelphia slip and fall attorneys?
Slip and fall cases are a common type of personal injury lawsuit. They fall under a larger category of law known as premises liability law. Premises liability comes into play when injuries were caused by some type of unsafe or defective condition on someone's property. 
Under Pennsylvania law, a "slip and fall case" refers to instances where a person slips, trips, or falls on a dangerous surface and suffers an injury. Personal injury law allows you to recover damages when someone else's negligent or intentional actions cause you harm. As a fall victim, working with an experienced personal injury attorney can help you get the financial compensation you deserve.
Sadly, slip and fall accidents are a daily occurrence. Parking lots, malls, restaurants, grocery stores, nursing homes, construction sites, and retail stores are common accident sites. Sometimes they are caused by inclement weather and slippery surfaces. Other times it's because of poor lighting and cluttered walkways. 
Business owners have a duty of care to keep areas free of hazards and up to code. When they fail to do so, the following hazards can crop up:
Wet, muddy, and icy patches that form dangerous, slippery surfaces. They appear outside of entrances and on business floors. Shoes, shopping carts, and umbrellas can form water puddles in bad weather. Although property owners don't have control over rain or snow, it's their duty to clean up and warn others about the possibility of a slippery surface. When a property owner is negligent, they can be liable for injuries that occur on their premises.

Food and liquid spills in grocery stores, gas stations, and restaurants. Whether it's a broken jar of sauce in a grocery store aisle or a tray of spilled beverages at a restaurant, property owners are responsible for cleaning any spills. When spills are not cleaned up quickly, customers can slip and fall.

Cracked pavement, loose tiles, chipped sidewalks, rough flooring with holes and depressions, and loose carpet patches that snag your feet. Have you ever tripped over a piece of loose carpeting at a bookstore or tripped on a piece of rough wooden flooring? How about an electrical cord strung across a floor? You're not alone. These dangerous conditions cause trips and falls every day. Broken bones and traumatic brain injuries are some of the more severe injuries that can occur.

Inadequate lighting in movie theaters, basements, storage rooms and walkways. If you can't see where you are going and you trip and fall, the property owner may be liable for failing to install adequate lighting. It's not your fault that the premises are poorly lit.




Missing handrails, faulty railings, and poorly marked steps that fail to guide or support you. Poorly maintained structures that aren't quickly addressed can lead to broken bones, traumatic brain injuries, and other serious injuries. Unfortunately, this is a common scenario in many public places and nursing home facilities.  If you or a loved one has any medical conditions that affect vision, balance, or ability to walk it's even more important that property owners repair and maintain safe structures.  
Don't hesitate to dial our phone number and speak to one of our slip and fall lawyers today. Even if you are unsure about who is really at fault for your accident, our team of experienced attorneys can help you determine if you have a case at no cost to you. 
You might not think about jumping right into a lawsuit after a nasty fall. As an accident victim, you're most likely to focus on seeking medical attention than contacting an experienced attorney. 
In many ways, the moments after a slip and fall injury will look like the moments after a car accident. As such, you'll need to gather information and record the scene of the accident immediately. 
First, seek medical attention. Do not hesitate to visit the emergency room. Even if you do not think your injuries are serious, it's important that medical professional documents the scope of your injuries. Keep your shoes and any clothes you were wearing in a safe place as they can be used as evidence in your case.
Second, document the accident. If you are able, quickly jot down the names and contact information of any witnesses. Take photos or videos of the dangerous condition at the place that led to your fall. Make sure to take down the names and details of the person to who you reported the accident, and if possible, request a copy of the written report before you leave. 
When you are able, contact an attorney as soon as possible to discuss the details of your personal injury case. Remember, slip and fall accidents are a type of personal injury claim. Most personal injury claims in Pennsylvania have a two-year statute of limitation, after which time, you will be unable to file a lawsuit.   It is best to speak with a lawyer early to explore your options.
Things to consider:
You may wonder when is the best time to alert the property owner or facility manager about your accident. Do you do it before or after you seek medical attention? 
Keep in mind that property owners can have the safety hazard cleaned up or fixed before you get a chance to document what happened. It might be helpful then to report the accident after gathering the evidence. Don't beat yourself up if you are too injured to document the accident yourself. If anyone is around, ask them to take pictures or videos for you and get their contact information. 
Most importantly, do not accept any settlement offers from an insurance company. You might think that some money is better than no money at all. However, an insurance company will try to pay you as little as possible for your injury. 
If you are contacted by an insurance adjuster, be kind but give only basic information like your name and contact information. Don't give them any details of your accident and never let them take a statement regarding your account of the fall. Remember, the adjuster works for the insurance company, not you. They will try to jeopardize your claim and pick apart anything you might say to them. 
This is why you need a reliable slip and fall attorney at your side. Let them negotiate with the insurance companies and property owners on your behalf. Only an experienced slip and fall lawyer can protect your rights and make sure you receive the compensation you deserve.
It is absolutely free to begin your slip and fall claim. Most personal injury law firms offer free initial consultations. Speaking with an experienced attorney will come at no cost to you. 
Although you may often hear that hiring an attorney is expensive, personal injury lawyers work on a contingency fee basis as a way to get the maximum financial compensation for your damages. You will never pay any fees upfront unless we are successful in recovering money for you. 
The attorney-client relationship you build in a slip and fall case is one of trust and respect. The attorneys at The Rothenberg Law Firm respect you as an individual and will do whatever they can to protect you.. You can trust our team of lawyers to work diligently to get you the compensation you deserve. This relationship dynamic not only motivates our attorneys to do their best, but it is the foundation of what makes us one of the top personal injury law firms in the nation. 
The slip and fall lawyers at The Rothenberg Law Firm LLP represent clients from all over Pennsylvania, particularly in the Philadelphia area, and they will help you understand your legal rights.  Let the experienced legal professionals at our firm help you obtain the money you deserve.
In Pennsylvania, property owners may be at fault for slip and fall accidents. A lawyer must prove that a property owner either caused the dangerous condition that led to your injury, or that they knew (or should have known) about it.

Liability in a slip and fall claim can be complicated as it's possible for multiple parties to be at fault. Multiple business or property owners can be responsible. In addition to property owners, property managers, maintenance workers, and the companies these employees work for may be at fault, too. Municipalities (cities or towns) can also be responsible if you fall in a public place. Sometimes an employer may be liable if they failed to keep a workplace safe for employees.

These parties have what's known as a duty of care to ensure their property is properly maintained and to address any dangers.  Proper maintenance, frequent inspections, and quick repairs prevent harm. 
If there is a safety hazard on the premises, a property owner is considered negligent if that hazard isn't fixed once the danger is known, or if they fail to warn people that it exists. In many cases, a business owner's failure to conduct regular inspections of the premises leads to slips, trips, and falls that they can be held accountable for. 
While business owners have a duty to keep their premises safe for patrons and customers, homeowners must also keep their premises free of hazards. If you slipped and fell at someone's home, the homeowner may be liable for your injuries.

These parties might try to argue that you are at least partially to blame. They might claim:
You wore inappropriate footwear;

You were in an area of the property where visitors aren't allowed;

You were not paying attention at the time because you were on the phone;

Reasonable steps were taken to protect you;

The dangerous condition should have been obvious to you.
As each case is unique, a slip and fall lawyer can look at the specific facts of your case and advise on the best course of action. Call the Rothenberg Law Firm at 1-800-624-8888 to get expert legal advice on your possible slip and fall claim today.
Although no one needs to hire a lawyer to file a personal injury claim, you absolutely need one when you are dealing with a slip and fall lawsuit. You are the victim and are not at fault. Yet, it's important to have an advocate on your side that has extensive experience with Pennsylvania slip and fall claims to protect your rights.
Generally, a Philadelphia slip and fall attorney will:
Collect evidence

Gather your medical records and medical expenses to assess damages (so you are paid the maximum amount you are rightfully owed)

Speak with experts, witnesses, and key people involved in your case

Handle complex legal paperwork

Provide resources 

Negotiate with insurance companies

Worry about deadlines, the statute of limitations, and more.
Please be aware the defendants (parties at fault) will do their very best to try and claim that you are at fault for your accident. 
Defendants have their own insurance companies and lawyers who will try to argue that you were careless and fell on your own accord. They might even claim to have never been informed of the dangers on their property and say there wasn't enough time or resources to fix the problem. The slip and fall lawyers at The Rothenberg Law Firm have heard it all and will fiercely defend your right to fair compensation.

Experienced Philadelphia slip and fall attorneys also know what kinds of damages you can recover under the law. Damages may be economical or non-economical and may be awarded to punish wrong-doers. Your lawyer will work hard so that you don't have to worry about covering all of your medical expenses and financial obligations alone. Even if you suffer a slip and fall at work, you may recover money that goes beyond worker's compensation benefits.
Best of all, most personal injury lawyers work on a contingency fee basis so it's absolutely free to contact them and learn more about your legal options. You might be skeptical about what a lawyer can truly offer you. Don't hesitate to contact one. You won't pay any fees upfront and can discuss the details of your potential case with no obligation to pursue legal action.
The attorneys at The Rothenberg Law Firm LLP always offer a free consultation. Therefore, there is nothing to lose by explaining how you were injured and learning how the law applies to your specific situation.
Your attorney needs to first examine the details of your case in order to determine the amount you are likely to recover for your injuries. Determining your case value depends on a variety of factors including the nature and severity of your injuries. 
Did you experience minor injuries or temporary disability? Were you permanently disabled as a result of your accident? These are some of the factors we consider in determining a case evaluation.

Although we may not be able to provide you with an exact dollar amount, we can estimate the value of your case based on the variety of damages you are eligible for, many of which may not be obvious to you. 
The law entitles you to recover economic damages (damages that have a precise dollar amount, such as a hospital bill or paycheck), and non-economic damages (those that don't have a specific dollar value, such as pain and suffering or loss of enjoyment of life). Punitive damages may even be awarded to punish property owners to prevent others from acting similarly.
By contacting a Philadelphia personal injury lawyer, you may find that you are eligible for multiple forms of economic and non-economic compensation, such as:
Hospital bills, medical bills and related medical expenses

Lost past wages

Future income loss

Pain and suffering

Loss of enjoyment of life

Loss of consortium, or loss of companionship

Funeral costs in cases of wrongful death 
In addition, if your slip and fall accident occurred while you were at work, you may be eligible for Pennsylvania workers compensation benefits.
Contact an experienced slip and fall attorney to learn more about the damages you are likely to be eligible for when you file a slip and fall case. The slip and fall lawyers at The Rothenberg Law Firm LLP have been handling these kinds of cases for years and have been successful in obtaining  billions of dollars for thousands of clients.
On a good day, a slip, trip, or fall is just an embarrassing incident. But serious accidents happen unexpectedly and can have serious consequences for victims and families. That's why it's important to know who to call when you need legal advice on a potential personal injury lawsuit. 
Serious injury cases are not just business for us—they're personal.  When we take on a new client, we adopt them as part of our family, and we fight for them in every way possible.

If you or a loved one slipped and fell in the Philadelphia area, contact the experienced team of legal professionals at The Rothenberg Law Firm LLP.  We have over five decades of experience helping people obtain compensation for their losses and are available to assist slip and fall victims in the Philadelphia PA area. 

Our experienced attorneys have won numerous multi-million-dollar verdicts, settlements, and awards for accident victims. We tilt the playing field for clients who are at a distinct disadvantage going up against business owners and insurance companies.
We are more than simple legal counselors to our clients. We provide real solutions in their darkest hours. We devote our time to meet our client's needs and are passionate advocates in trial. We go the distance for our clients when liable parties do not offer full and fair compensation for the damages they caused.

You may learn more about our recent results here. Contact us today to discuss your case.
When you're injured in a trip or slip-and-fall accident, it's essential to seek legal counsel as soon as you can. Most trip or slip-and-fall incidents (commonly referred to as premises liability cases), are subject to strict deadlines known as the Statute of Limitations ("SOL.") The SOL prevents cases from being filed after a designated amount of time following an accident.  If you wait too long to hire a personal injury law firm, you risk running out of time to have your case properly investigated, prepared and filed in Court.
Under Pennsylvania law, if negligence is proven against a defendant, an individual/plaintiff may recover significant compensation for injuries resulting from a trip and fall incident. Per 42 Pa.C.S. § 5524(2), Pennsylvania law states that the Statute of Limitations for all personal injury cases is two years from the date of injury. This means the clock starts ticking from the time of your fall. If you miss this two-year deadline, you will not be able to pursue any money damages for your injury. It is also important to note that for cases against a municipality, notice needs to be given within 6 months.
Some rare exceptions may enable you to file a personal injury claim that would override the Statute of Limitations. One example is where a defendant Doctor engaged in "fraudulent concealment" where the Doctor and/or Hospital  was  deceptive and withheld crucial discovery   information from a victim.
However, when it comes to the vast majority of premises liability cases, the two year Statute of Limitations is the rule. Therefore, if you miss the SOL deadline to file, your case will be over before it even starts. Contact an experienced personal injury attorney at The Rothenberg Law Firm LLP to ensure that your case gets the proper investigation, attention and experience to not only meet all important filing deadlines, but to win the case for you via a settlement or verdict.   
Contact Our Slip and Fall Lawyers
If you or a loved one slipped and fell in the Philadelphia area, contact the experienced team of legal professionals at The Rothenberg Law Firm LLP.  Slip and fall accidents happen unexpectedly, and they can have serious consequences for victims and their families.  We have decades of experience helping people obtain compensation for their losses and are available to assist slip and fall victims in the Philadelphia PA area. Contact us today to discuss your case.