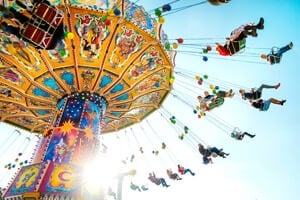 As the summer months approach, millions of Americans will visit some of the 400 amusement parks from California to Florida for vacations, family reunions, and excitement. While visiting a theme park should be a fun, care-free event, thousands of people every year suffer serious, life-changing injuries because park operators and owners fail to take reasonable precautions to prevent foreseeable injuries. Before planning a trip, park visitors should consider some of the most common types of amusement park injuries and be on the lookout for such dangers.
Despite popular belief, most theme park injuries do not involve gruesome roller-coaster accidents. Rather, slip and falls cause the overwhelming majority of amusement park injuries. According to a 2009 report from the Orlando Sentinel analyzing almost 500 state and federal lawsuits against park operators in the Southeast over an eight-year period, 46% of cases involved slip and fall injuries.
About 20% of the injuries studied involved attractions at amusement parks. Due to the size, speed, and complexity of roller coaster and other thrill rides, these types of injuries have the potential to be much more serious and even life-threatening. Common injuries from roller coasters include head, neck, and spinal injuries from whiplash, traumatic brain injuries, and even death.
Theme Park Fatalities 
While rare, some serious amusement park injuries do result in death. Often times, fatalities occur because amusement park staff fails to follow safety protocols and allows unfit guests to ride attractions engineered to fit guests of a certain height and/or weight. It is precisely for those reasons that we see signs posted on rides stating "you must be this tall to ride this attraction."
Guests susceptible to catastrophic injuries on roller coasters include children too small to fit into harnesses, the elderly, and intoxicated passengers. Recently, a young boy from Kansas tragically lost his life on a water slide after the operator allegedly allowed the craft he and several other occupants were on to go down the slide underweight, causing the craft to turn over, causing fatal head and neck trauma. The victim's family recently recovered a multi-million dollar settlement from several parties involved in the ownership, construction, and design of what currently stands as the world's largest water slide. While nothing can possibly bring back the life of a child cut tragically short, legal actions like these can ultimately spur serious changes, including governmental oversight necessary to ensure these types of attractions are thoroughly vetted and regulated before they are allowed to entertain park guests.
Why Do So Many Accidents Happen At Amusement Parks? 
According to legal analysts and safety experts studying health and safety issues related to amusement parks, the main reason why so many injuries occur at what should be a happy and safe environment is a false sense of security created by the parks themselves. When visitors go to theme parks, they rarely expect an accident. However, just like anywhere else, park visitors should remain vigilant about their surroundings and exercise all due caution. At the same time, theme parks need to perform proper safety analyses on their rides, attractions, and the establishment as a whole to ensure guests are not placed in foreseeably dangerous situations.
Legal Recourse:
In the event that you or someone you love was injured at an amusement park, it is important to discuss your situation with an experienced personal injury attorney. You may be entitled to seek financial compensation for your injuries.