In Philadelphia, many commuters and tourists use public transportation for work, travel, and sightseeing. Students, seasoned professionals, and the elderly ride buses to get where they need to go on a daily basis. From work to school, to any other necessary travel needs-bus travel is a way of life for many Philadelphia residents. Unfortunately, accidents happen and you need to be prepared in case you are involved in a bus crash. Bus accidents are often deadlier than car accidents since buses rarely have seatbelts or restraints for passengers on board. There are many types of buses in the Philadelphia area and it's important to understand your rights as a bus passenger if you are ever injured in an accident. If you or your loved ones have been hurt in a bus accident in Pennsylvania, call The Rothenberg Law Firm at 1-800-624-8888 to discuss your potential bus accident case with a Philadelphia bus accident attorney today.
What types of buses exist in the Philadelphia area? 
With its proximity to New York, New Jersey, Baltimore, and DC, Philadelphia is a major transportation hub. The Southeastern Pennsylvania Transportation Authority  (SEPTA) alongside several commercial bus companies operate bus lines in Downtown Philly and the surrounding areas. You may have seen the following buses on Philly streets and highways: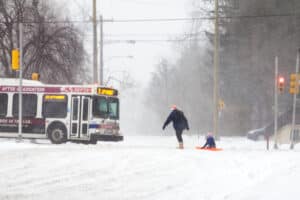 BoltBus
MegaBus
SEPTA buses
Greyhound
Martz Trailways
Peter Pan Bus Lines
Fullington Trailways
OurBus
Chinatown buses
School buses
These buses are all bound by city, state, and federal laws to keep you and your family as safe as possible. If an unfortunate accident takes place, these companies have insurance to help injured victims avoid major financial losses. However, these insurance companies often downplay the severity of injuries. Accident victims are often presented with little to no money to help with growing medical costs. Most if not all insurance adjusters offer low settlements that fail to cover medical bills or lost wages. To protect your legal rights following a serious injury or the wrongful death of a loved one in a bus accident, it's important to know that Philadelphia bus accident attorneys are on your side. Don't hesitate to reach out to one of The Rothenberg Law Firm's experienced Philadelphia bus accident attorneys.
What qualifies as a bus accident?
Bus accidents are quite different from car accidents. There are instances where you are a bus passenger and the driver crashes into another motorist, trolley operator, pedestrian, or structure. You may also be injured while boarding or exiting the bus, or if a bus driver stops short of a bus stop. There are times when a bus accident occurs because of a defect in the bus itself. Other times, a bus malfunction or mechanical failure is the root of the problem. Bus companies have a duty to maintain their buses according to federal regulatory requirements like any other commercial vehicle. When not properly maintained, bus malfunctions may lead to dangerous or deadly accidents. Unlike cars, buses are designed to carry large amounts of people and heavy cargo from one place to the next. Although car accidents are dangerous, bus accidents lead to more serious injuries due to their enormous size. The lack of seatbelts and personal attitudes towards seatbelt usage also leads to greater injuries.
 What are the most common causes of bus accidents?
Distracted driving is one of the major causes of bus accidents in Pennsylvania. However, there are many other causes such as:
Bus driver error
Fatigued or careless driving
Substance abuse
Road hazards
Improper training
Other acts of negligence
If you were injured in an accident where a bus driver was negligent in any way, ie. drove too fast or texted while driving, for example, there is usually sufficient liability to bring an action for a personal injury lawsuit. Of course, passenger vehicles must also exercise caution on Philadelphia roadways. Motorists can also become distracted and engage in unsafe driving behaviors, which can change the course of anyone's life in a matter of seconds.
What do I do after a bus accident injury?
Immediately after the accident, seek medical attention right away even if you don't think you're seriously injured. If police are on the scene, you should let the law enforcement officer know what happened to you in your bus accident. Do not discuss your case with the bus company's insurance company before speaking with a personal injury attorney. And always wait to accept any settlement offers from insurance companies or any liable parties until you have contacted an attorney.  Save any and all receipts, documents, and reports of the accident as this information will be helpful for your bus accident claim. It's perfectly normal to be rattled or anxious after a bus accident. You may not be fully aware of your legal rights. After you are safe and have the medical treatment you need to stabilize your injuries, contact a personal injury law firm with a proven track record of handling bus accident claims.
What are the types of bus injuries can I get compensation for? 
People of all ages can get seriously injured in a bus crash. Your child can be injured in a school bus crash or if a school bus hits a pedestrian or another motor vehicle. You can be hit as a pedestrian by a bus or injured in a bus crash. Sadly, these injuries can be quite severe and need frequent, ongoing medical care. Let's say a bus driver crashes into an oncoming vehicle and you went flying across the bus, hitting your head. In this scenario, you might experience a concussion or another form of traumatic brain injury. Moreover, you could have sustained a spinal cord injury. There is a possibility you'll experience ongoing headaches, migraines, and even vision problems for months or years after the accident. The impact the accident has on your capacity to work, attend school, or spend time with loved ones may have an increasingly negative effect on your life. As an injury victim, you can receive compensation for all damages-economic and non-economic-that were caused by your bus accident. Some injuries include: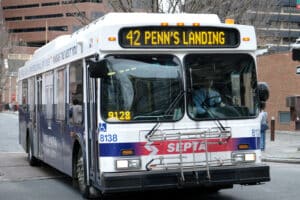 Traumatic brain injuries
Concussions
Crush injuries or amputations
Whiplash
Broken or dislocated bones
Spinal cord injuries (with or without paralysis)
Internal organ damage or internal bleeding
Lacerations or puncture wounds
Open head wounds
Wrongful death
The law entitles you to recover economic damages (damages that have a precise dollar amount, such as a hospital bill or paycheck), and non-economic damages (those that don't have a specific dollar value, such as pain and suffering or loss of enjoyment of life). By contacting a Philadelphia bus accident attorney, you may find that you are eligible for multiple forms of economic and non-economic compensation, such as:
Hospital bills, medical bills and related medical expenses
Lost past wages
Future income loss
Pain and suffering
Loss of enjoyment of life
Loss of consortium, or loss of companionship
Funeral costs in cases of wrongful death
Bus accidents can vary from minor collisions to serious accidents. Injuries may vary based on the type of collision. If you are unsure whether or not your injury qualifies for a bus accident injury claim, speak with an experienced Philadelphia bus accident attorney today.
If my child is injured in a school bus accident, can they receive compensation for their injury? 
No parent wants to receive a phone call that their child has been seriously injured. Yet school bus accidents lead to serious injuries and even deaths every year. Children are particularly vulnerable in school buses even if they wear their seatbelt. If your son or daughter is injured as a result of their school bus getting into an accident, it's important to contact a bus accident lawyer right away. Your child may be eligible to receive compensation in a bus accident injury claim. Schools have a duty to prevent severe injuries on school buses and your child is not at fault. Your child's physical pain, mental trauma, caregiver costs, medical expenses, and their inability to attend school can all be assessed as damages in a bus accident claim. You must become familiar with their legal rights and take the necessary steps to get the compensation they deserve with the help of an experienced attorney.
What does it mean to bring a lawsuit? Do I need a personal injury lawyer or a bus accident lawyer to handle my case? 
A Philadelphia bus accident lawyer at The Rothenberg Law Firm can guide you through the steps of the legal process. You will have our full attention and devotion to your case every step of the way. If our lawyers decide to take on your case, the general course of action involves:
Onboarding: During this stage, your lawyer will gather all of the pertinent information for your possible case. They will ask you questions to understand how the accident occurred, the extent of your injuries, your time out of work, your lost wages, and the scope of your medical expenses.
Documentation: After determining the circumstances of your case, your attorney will begin to build your case. Police reports, unemployment documents, medical records, insurance papers, medical bills, and personal statements, among other things, will be used.
Investigation: When your paperwork has been received, your lawyer will consult with experts to investigate your case. They will reach out to police, witnesses, medical professionals, and any other people who were present at the accident scene.  They may retain an accident reconstructionist to recreate the circumstances of your bus accident.
Settlement: It's entirely possible that your case can be handled outside of court. In a settlement, the attorneys on behalf of the plaintiff (you) and the defendant's (the party at fault) insurance company work towards a mutual agreement. The defendant's insurance company has to agree to the estimated settlement value in order to reach a settlement. If the defense does not agree or tries to negotiate for a lower amount, the case continues to court.  Once in court, your attorney will file all of the necessary documents and motions needed to pursue your case. This process takes time and sometimes will be a few years of litigation which could potentially lead to a settlement before trial.
Court Proceedings: When both parties are unable to reach an agreement outside of court, a case will be brought to trial. Your legal team will be tasked to make both the judge and jury understand the nature of your case so that you can recover maximum damages.
You may want to try and handle your case on your own. However, you should be aware of the fact that having an attorney on your side will make a world of difference to your case. Take advantage of a free case evaluation offered by our experienced attorneys. You shouldn't have to worry about investigations and documenting serious injuries alone. Working with a Philadelphia bus accident lawyer will help you secure maximum compensation for you and your family. We work on a contingency fee basis, which means you do not pay anything unless and until we recover money for you. How do you know which lawyer to choose? Why do I even need a Philadelphia bus accident attorney? If you or a loved one are injured as a result of a bus company's negligence, you should contact a bus accident attorney to learn more about your legal rights. When you look at the billboards around the Philadelphia area, you will note that there are many personal injury lawyers advertising their services. So how do you know which lawyer to choose? In the greater Philadelphia area, Allen Rothenberg is synonymous with personal injury law. With over 50 years of experience, The Rothenberg Law Firm is a firm you can count on to help you receive the compensation you deserve. World-renowned playwright, Quiara Alegria Hudes, shared a childhood memory that reflects the relationship between Philly residents and Allen Rothenberg (founder of the Rothenberg Law Firm LLP) in a heartful interview. When choosing a lawyer, you want to choose one local Philadelphians know and trust. Take time to read our client testimonials, online reviews, and take a peek at our client results.
What is the difference between a bus accident lawyer and a personal injury lawyer?
Throughout this article, "personal injury claim" and "bus accident claim" are used interchangeably. This is because bus accident claims are a type of personal injury claim. A personal injury attorney handles all types of cases involving accidents and injuries. Bus accident claims are legal actions that fall under personal injury law. Philadelphia bus accident lawyers are highly skilled in handling bus accidents in the Philly area. Not all personal injury lawyers are adept at taking on bus accidents. The complex nature of these claims requires nuance and experience. The attorneys at The Rothenberg Law Firm LLP have over fifty years of experience as personal injury lawyers handling bus accident cases in Philadelphia.
Free consultation for your bus accident injury
At The Rothenberg Law Firm LLP, it's our duty to recover the maximum compensation for injured bus accident victims and their families. Contact us right away to discuss the details of your bus accident injury. And keep in mind that there is a time limit to file, known as the Statute of limitations. You won't pay us unless we are successful in winning your case! An experienced bus accident personal injury attorney will fight to obtain money for you to compensate you for all of your damages – past and future. Call us at 1-800-624-8888, or fill out a free contact form today.
What Our Clients Say
"The Rothenberg Law Firm adhered to the highest possible ethical standards at all times and represented my case with courtesy and professionalism. Equally important, they were responsive and addressed all issues. They resolved the matter in a manner that exceeded my expectations and I would recommend them to anyone."

"I highly recommend this very qualified law firm. I am so appreciative to The Rothenberg Law Firm for helping me win a settlement beyond what I expecting in my accident case. They took the time to explain the process and constantly kept me informed. They encouraged me to maintain ongoing contact and took all my calls immediately. They were always understanding, supportive and concerned about my recovery."