Pharmaceutical companies manufacture and market hundreds of new drugs each year. Each product is regulated and approved by the Food and Drug Administration (FDA) before it reaches the consumer. However, even with this oversight, according to the Centers for Disease Control and Prevention (CDC) pharmaceutical drugs kill over 40,000 people each and every year.  In 2011, it was reported that prescription drug deaths outnumbered traffic fatalities in the United States. Recent studies highlighted by the CDC estimate that more than 50% of all the drugs marketed to the American consumer have injurious effects, despite testing and FDA regulation.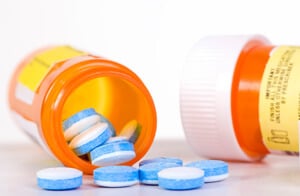 Manufacturer Liability
History shows that dangerous drugs cause most harm within the first 12 months of their release. This means that many products are released without a full appreciation of their risks, with early adopters often suffering injury as a result.  However, some drugs are still marketed by drug companies even after evidence of serious side effects or death had been noted.
By law, drug manufacturers are strictly liable for injuries if the product they sell is defective or unreasonably dangerous. This can happen in several ways:
The product may be defective because of a manufacturer error.
Consumers may not be warned of possible bad effects from the use of the product.
The product has a design flaw that makes it dangerous.
Dangerous drug lawyers know that in all of these cases, the manufacturer is liable and can be sued for damages even if they were not aware of the danger. It does not matter how carefully the product was produced or labeled.
Dangerous Drug Lawsuit Examples
Pharmaceutical products have caused enough widespread injury such that thousands of lawsuits, called mass tort litigation, have been filed against the manufacturers. Some of these drugs include: Talcum Powder, Taxotere, Nexium, Prilosec, Prevacid, Xarelto, and Pradaxa. Pharmaceutical companies have paid billions of dollars for injuries sustained due to the use of these drugs.
Of additional concern are the dietary supplements which are becoming increasingly popular. The FDA requires that manufacturers assure that such supplements are safe before selling them, but no formal testing or approval requirements exist.
Other drugs which may have hurt patient unknowingly include:
Invokana
Nexium
Valsartan
Viberzi
Proton Pump Inhibitors (Nexium, Prilosec, Prevacid, Dexilant, Zegerid, Protonix, and AcipHex)
Taxotere
Zofran
Xarelto & Pradaxa
Opioids
Many resources exist to help community members understand which drugs pose a risk and how they should be properly handled.
A few helpful resources include:
Sixty Minute's Special on the Most Dangerous Drugs – explaining the drugs that cause the most fatalities nationwide.
Obtaining Legal Aid from a Dangerous Drugs Attorney
If you or someone you know has sustained injuries from the use of any of these or other dangerous drugs, contact a defective drug lawyer at The Rothenberg Law Firm LLP at 1-800-624-8888 or submit an online InjuryLawyer.com free case evaluation. The initial consultation is FREE of charge. If we agree to handle your case, our payment is contingent on the success of your case. This means we only get paid for our services if there is a monetary recovery of funds.
In many cases, a lawsuit must be filed before a certain expiration date, known as a Statute of Limitations. To ensure you are not giving up your right to possible compensation or other benefits, please contact us immediately.
What Our Clients Say
"The Rothenberg Law Firm was fantastic at understanding my case and helping me through the whole process. They were well informed and settled the case in a timely fashion. They made the whole process seamless and were happy to explain every aspect from start to finish."

"Working with The Rothenberg Law Firm was a very easy and straightforward process. They actually surprised me with the extra time and additional attention to my case. I was extremely happy with the outcome. I'd recommend them to anyone."