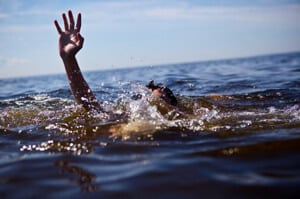 Summer 2013 is officially over.  Autumn has begun.   Next year, many people will once again re-stock the sunscreen and look forward to summer fun.  Enjoying the summer months for many individuals means spending time in swimming pools and natural water areas. Unfortunately, drowning incidents occur frequently in the warm weather and local municipalities and authorities could use this 'down-time' between summers to decide whether or not safety-warning signs are necessary to prevent future drowning incidents.
What is the riskiest setting for drowning?
According to the most recent statistics report from the Centers for Disease Control and Prevention (CDC) over 40 percent of drowning accidents occurred in natural water settings.
The data taken from that report for all drowning incidents is as follows:
Natural Water – 43%
Boating – 9.2%
Swimming Pool – 18.6%
Other – 4.9%
Unspecified – 13.9%
Bathtub – 10.4%
Natural water settings include:  rivers, creeks, lakes, ponds and oceans.
Who is most at risk for drowning?
According to the same CDC report, children between the ages of 1 to 4 are at the highest risk of drowning.  This risk decreases between the ages of 5 to 14.  At age 15, the rate increases and remains high typically right through adulthood.  Males account for 88 percent of all drowning incidents that occur in natural water settings.
Since we started #im in 2010 we have reached over 7,000 with our water-safety lessons! #dreamplanreach

— M. Phelps Foundation (@MPFoundation) October 29, 2013
Illegal swimming in natural waters
During the hot summer months, natural waterways- such as large creeks or ponds- lure those eager to cool off and have fun in the seemingly refreshing water.  However, not only is it illegal to swim in most public creeks, ponds and the like – it is also extremely dangerous.  For example, creek depths range from several inches to approximately six feet.  After a heavy rainfall the depths of a creek can change dramatically as can the force of the current.
Law enforcement and park rangers are often understaffed.  Therefore, it is often difficult to enforce the law against swimming in natural waters.
Could signs prevent future fatalities?
There is no single fix to this problem.  There are no federal laws that require swimming safety signs to be posted at public swimming pools or other public swimming areas.  However, most states require that the rules regarding pool safety as well as the risks of entering a pool, be posted at public swim locales.  State health and safety departments usually enact laws regarding warning signs in public swimming areas, usually a public pool.  Local municipalities typically implement and enforce these safety codes for public pools– but may not have any requirements for signage near or around natural water areas.
For those cities and municipalities that do not post warning signs at natural water areas- the large number of drowning deaths each year in natural water areas should serve as a reason to require 'pool-type' codes to potentially dangerous natural water areas. Posting warning signs at frequented public rivers and creeks – may be a step towards preventing future accidental drowning incidents.
Legal recourse
Unfortunately, drowning deaths continue to occur every year. Because there is no federal or state law requiring municipalities to post these warning signs, the population remains at risk. It is essential for parents to educate their children of the dangers of swimming in ponds, creeks, lakes, and the like. Adults, too, should be aware of the risks involved in swimming in natural waterways.
With the winter months quickly approaching, it is also essential for people to be aware of the dangers of frozen natural water ways. Always avoid skating or walking on frozen ponds, creeks, etc., during the cold months as these areas may crack open and individuals may face the possibility of drowning in the frozen water underneath.