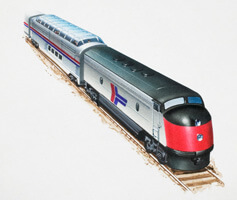 Injuries Capped for Amtrak Crash
The recent Amtrak train derailment in Philadelphia has left victims and their families wondering about the cause of this deadly train accident. While investigators continue to look into the reasons for the crash, an article in Bloomberg Business reported that those who sustained serious injuries in the derailment should prepare to have their damages capped at a certain amount when they file lawsuits. Specifically, "federal law caps total rail-accident damages at $200 million."
Back in 1997, Congress placed the damage limit on rail accidents "as part of a compromise to bail out the ailing railroad." It applies to Amtrak, but also to all other trains throughout the country. There is no specific reason for the $200 million maximum—it is an "arbitrary cap," according to Joanne Doroshow, the executive director for New York Law School's Center for Justice and Democracy. The cap does not take into account the number of persons injured in the crash or the severity of the accident. Furthermore, this amount will most likely not be able to remedy the injuries sustained by the recent Amtrak victims. According to Doroshow, "in a mass casualty situation like this, clearly it is way too low."
The $200 million limitation applies to lawsuits against all defendants in the Amtrak crash arising from the recent accident. In other words, if it turns out for instance, that both the train engineer and a third party are responsible for the derailment, the law essentially considers both defendants together in terms of the damages cap. As such, "a judge will ultimately need to decide how the money gets divvied up among the victims." In addition to those who sustained fatal injuries in the crash, many more remain in critical condition.
Some commentators believe that the Amtrak crash will lead plaintiffs' attorneys to challenge the constitutionality of the damages cap. Even if such challenges do not arise immediately, other methods could be pursued. For example, Congress could pass extension legislation, plaintiffs could seek punitive damages, and/or Amtrak could "set up a separate victims' fund like what was one in the BP oil spill." In other words, there is hope that those injured will be able to receive just compensation despite the current limitations of the law.
Facts and Figures for Train Accidents
How often do fatal train accidents like the recent Amtrak crash in Philadelphia occur? For New York residents, the 2013 Metro-North crash in the Bronx is very much in recent memory. Frequent commuters in the Northeast recognize the fact that while train derailments are not nearly as common as highway traffic collisions, they can and do occur.
According to data compiled by the National Safety Council and the Association of American Railroads, the following facts and figures can help us to understand the risks of serious and fatal injuries in a train crash:
Railroad-related deaths in the U.S. total nearly 900 on an annual basis. Thesefigures include fatal accidents involving pedestrians who attempt to cross tracks and suffer deadly injuries as a result. That number appears to be declining, as the total rail-related death counts in the 1990s and early 2000s totaled nearly 1,000 each year.
Each year, rail accidents cause more than 9,000 serious injuries. On average, for every 10 serious injuries reported, one death occurs.
Railroad spending is proportional to the number of accidents that occur. As railroad spending steadily increased between 1980 and 2014, the number of train accidents steadily declined. In fact, spending for safety measures on freight railroads is at an all-time high, and accidents on those lines recently reached an all-time low.
A majority of rail-related deaths result from trespassers on or near the tracks. Each year, trespasser deaths account for between 80 and 90 percent of all reported railway fatalities.