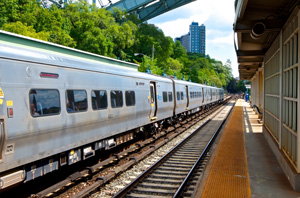 NTSB Makes Recommendations Following Metro-North Crash
The National Transportation Safety Board (NTSB) met recently in Washington to discuss a series of deadly train accidents and new safety recommendations, according to a report from CBS New York. About one year ago, a Metro-North train derailed in the Bronx, resulting in fatal injuries. But the regulators looked at several fatal train derailments between New York and Connecticut over the last two years.
According to Christopher Hart, the acting chairperson of the NTSB, "we noted a rising trend of accidents and incidents in passenger rail." He emphasized that the NTSB's new recommendations "have the potential to reverse this trend." Indeed, U.S. Senator Charles Schumer of new York, highlighted that the safety recommendations will promote a new "culture of safety" that did not exist previously. The NTSB meeting discussed the possibility that "Metro-North had developed a culture that sacrificed safety for the sake of on-time performance," and that such a culture needed to be changed.
What are the new recommendations? First and foremost, the NTSB wants train engineers' health conditions to be screened better, including "a call for improved physician training." What does this recommendation have to do with train crashes? The derailment in the Bronx that resulted in four deaths resulted from the train engineer's "undiagnosed case of sleep apnea." Indeed, he fell asleep at the controls, and as a direct result, the train crashed.
Following the deadly accident, the NTSB learned that the engineer, William Rockefeller, had never been diagnosed with sleep apnea despite the fact "the disorder interrupted his sleep dozens of times each night." With the new safety recommendations, the NTSB will be asking various healthcare professionals to undergo training so that they are better able to identify and treat cases of sleep apnea. The NTSB has also urged Metro-North and the Long Island Rail Road "to routinely screen 'safety-sensitive' employees for sleep disorders." However, it is important to remember that such requirements will have to come from the Federal Railroad Administration (FRA), as the NTSB can only urge safety measures through its recommendations.
Train Accident Statistics
How often do train accidents occur? How frequently do these crashes lead to serious and fatal injuries? According to the FRA's Office of Safety Analysis, the total number of train accidents has risen over the last several years, with a 4.3 percent increase in incidents from 2013 to 2014. The number of reported accidents or incidents involving railroads during the last four years is as follows:
8,700 accidents/incidents in 2011
8,378 accidents/incidents in 2012
8,591 accidents/incidents in 2013
8,964 accidents/incidents in 2014
Those numbers include all types of rail-related accidents and incidents, yet the number of reported fatalities and serious accidents remains extremely high:
In 2011, 520 rail-related fatalities were reported, while 6,488 nonfatal injuries were reported.
In 2012, the number of fatalities had dropped slightly to 494, and the total number of nonfatal injuries had dropped to 6,033.
By 2013, however, those numbers rose to 528 fatalities and 6,434 serious injuries.
In 2014, 620 fatalities already have been reported, as well as 6,391 nonfatal injuries.
The numbers for 2014 only include the months of January through September. Clearly, markedly more incidents occurred over the past year, emphasizing the NTSB's call for better safety standards.
If you were injured as a result of a train accident, contact an experienced train accident attorney. You may be able to seek financial compensation for your injuries.