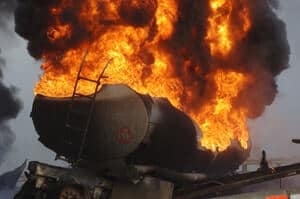 Semi-Truck "Burst into Flames" Following Motor Vehicle Collision at a Gas Station 
Motor vehicle collisions with tractor-trailers, also known as semi-trucks or big rigs, often result in serious or fatal injuries because of the large size of these vehicles, which often weigh in excess of 10,000 pounds. According to a recent report from CBS Philly, a tractor-trailer "burst into flames" at a gas station in Northeast Philadelphia after crashing into a smaller passenger vehicle. The truck accident occurred early in the morning at approximately 6:30 a.m. At the time of the collision, the truck had been towing a Shop Rite supermarkets trailer.
It took about 50 firefighters to extinguish the blaze caused by the dangerous crash. According to Fire Captain William Dixon, the firefighters dealt with "a very dangerous situation" with hundreds of gallons of gasoline nearby. Authorities stated that the impact of the collision is what led the semi-truck to catch fire. According to CBS Philly, the truck caught on fire "dangerously close to the gas station's pumps," and as such the accident could have been significantly worse.
Get the Facts About Large Truck Accidents 
What should you know about the dangers posed by semi-truck crashes? The following are facts and figures reported by the Federal Motor Carrier Safety Administration (FMCSA):
Over 410,000 large truck accidents occurred in 2014;
Of the large truck accidents reported to the police, about 82,200 (or 20%) resulted in one or more nonfatal injuries, while 3,424 resulted in at least one fatality;
63% of all deadly large truck accidents reported in 2014 involved at least two vehicles—the large truck and another vehicle;
More than 60% of fatal large truck accidents occur on rural roads;
26% of fatal large truck crashes occurred on highways;
88% of deadly semi-truck collisions occur during the working week (Monday-Friday); and,
Collision with another vehicle was the primary cause of fatal trucking accidents in 2014.
If you or someone you love recently sustained injuries in a motor vehicle accident involving a large truck, contact a truck accident lawyer to learn more about your rights.