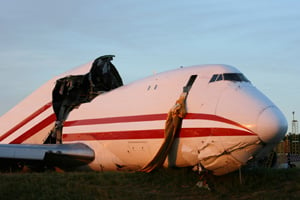 The civil law often allows those hurt in airline accidents (or their surviving family members) to seek compensation and accountability.  It is important for family members to seek out airplane accident lawyers if they are involved in one of these events.
The Rules
Commercial airplanes are governed by different laws and protocols than private airplanes or other private vehicles. Referred to, technically, as "common carriers," commercial airplanes are businesses that transport persons or cargo for compensation. Both federal and state regulations govern the activities of common carriers such as buses, trains, and airplanes. As a general rule, a common carrier is held to a higher standard of care than is a private party.  They are also held to a greater standard of care than would be reasonably expected of other parties.
The Federal Aviation Administration keeps detailed records and reports of airline accidents.  You can view incident data at the agency's research website, found HERE.
After an Accident
Following a plane crash, the first legal priority is to determine what caused the accident. Investigating causation can prove difficult due to the dramatic and violent nature of aerial crashes. Evidence that could offer insight into causation, such as signs of mechanical failure or pilot error, is frequently destroyed. Crashes can result from pilot error (most common), design flaws, mechanical failure, extreme weather conditions, or various combinations thereof. It is vital that any evidence that is available be collected, studied, and preserved so the source of the crash can be uncovered and recorded. Once this process is complete it is the responsibility of airplane accident lawyers see if the basis for a lawsuit exists.
Damage Awards for Airplane Accidents
If you think you or a loved one has endured an injury from an airplane crash, contact an airplane accident lawyer at TheRothenberg Law Firm LLP at 1-800-624-8888 or submit an InjuryLawyer.com free online case evaluation. The initial consultation is FREE of charge. We work on a contingency fee basis. Meaning, if we agree to handle your case, there are no legal fees unless we are successful in getting you money.
Some lawsuits need be filed before an impending expiration date, known as the Statute of Limitations. Therefore, call or contact us right away to ensure that you do not waive your rights to money damages or other benefits.