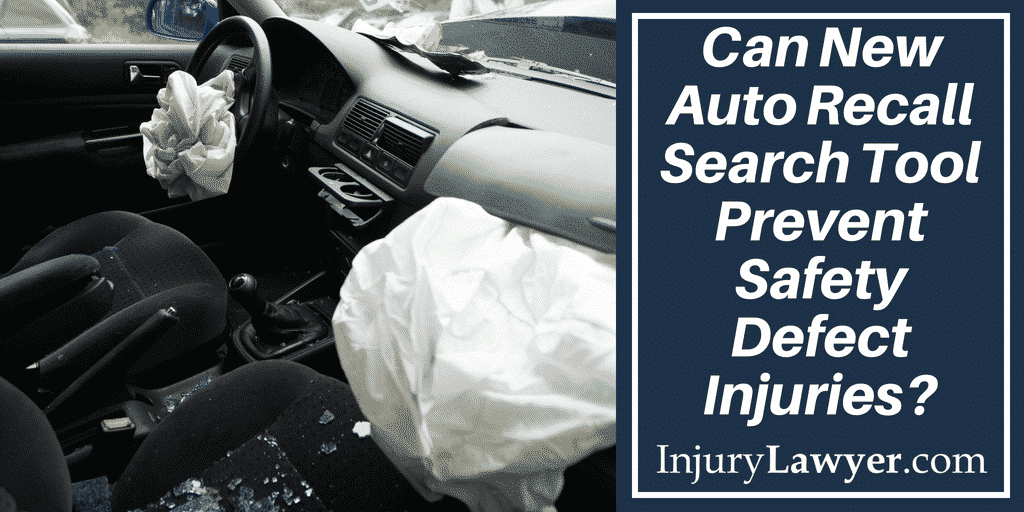 Automakers Launch Recall Search Tool to Increase Consumer Knowledge About Dangerous Auto Defects
Has your car or one of its parts been subject to a safety recall? How can you know for certain if your motor vehicle may have an auto product defect that could cause serious injuries? You can simply keep an eye out for notices from the automaker about a recall or product liability lawsuits, or you can be more proactive when it comes to your safety and the safety of your family. According to a recent article in Markets Insider, automakers have launched a new recall search tool that is "aimed at increasing consumer participation in auto recalls by allowing approved commercial and governmental entities . . . to search for open recalls for thousands of autos at once, free of charge."
Currently, to check whether your vehicle has been subject to a safety recall, you need to have the vehicle identification number (VIN) on hand, and you need to enter it into the National Highway Traffic Safety Administration (NHTSA) recall search tool. But what if your state's department of motor vehicles could let you know about a recall even before you think to check NHTSA's website? Or what if the dealer that sold you your car could contact you and let you know? The new search tool will allow certain users to search for recalls for as many as 10,000 vehicles at a time. Authorized users include but are not limited to:
State departments of motor vehicles;
State vehicle registrars;
State vehicle inspection programs;
Motor vehicle insurers;
Auto finance companies;
Motor vehicle dealers;
Vehicle fleet managers;
Automobile parts recyclers; and
Vehicle auction companies.
The search tool is available at www.freeautorecallsearch.org. It is the product of collaboration among Carfax, the Alliance of Automobile Manufacturers, and the Association of Global Automakers. Together, those latter two organizations represent about 99% of all automakers producing cars that are sold in the United States. The thinking behind the new search tool is that it will increase public awareness of auto recalls. For example, with the new search tool, auto insurers can identify vehicles that have been subject to a safety recall and can remind consumers about the recall if they do not act.
Taking Action After an Auto Recall
What do you need to know about auto recalls? According to a tip sheet from esurance.com, consumers typically will be notified about a recall in writing. That letter should include the following information:
Description of the safety defect;
Risk posed by the safety defect;
Warning signs of the defect;
How your vehicle will be repaired or how the defect will be remedied; and
What steps you need to take in order to deal with the product defect.
If you do learn that your automobile has been subject to a safety defect recall, what should you do? Typically, recall notices provide the consumer with information about the next steps to take. However, if you do not know what to do, an article in Bankrate emphasizes that you should do the following:
Contact the dealership for your vehicle (it does not need to be the dealership where you bought the car, but rather the dealership in your area that sells your vehicle make);
Ask the dealer what services are covered by the recall, ensuring that you do not pay for work that is not covered;
Make an appointment to have the problem repaired or the defective part replaced before it causes a personal injury from product liability; and
If you already had a safety defect remedied prior to receiving notice of the defect, seek reimbursement.
Do you have questions? An experienced auto product liability lawyer can help.