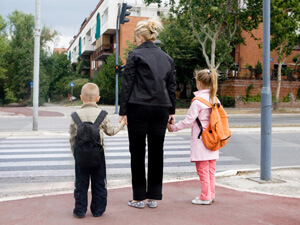 Two Boys Injured, Another Killed After Being Struck by Automobiles
Last week, a four-year-old boy in the Holmesburg section of Philadelphia sustained injuries after being struck by a car at an intersection, according to an article in NBC Philadelphia. Reports from the scene indicated that the young pedestrian accident victim was taken to Torresdale Hospital and was placed under observation, thankfully- he was not seriously injured in the accident.
Although the four year old in the above accident survived, his accident occurred shortly after a fatal pedestrian accident in the Philadelphia area. In the first weeks of 2014, a college freshman was hit by a car as he was walking on "a busy road outside of Philadelphia," according to NBC Philadelphia. The accident occurred when one car collided with another in Clifton Heights. The victim and two other students had been walking on the sidewalk when one of the cars involved in the crash went up over the curb and struck and killed the victim. A second student was hospitalized in serious condition at the Hospital of the University of Pennsylvania and the third student escaped the incident unharmed.
Following the fatal accident, the drivers of both automobiles cooperated with the police, and authorities do not suspect that alcohol was a factor in the crash. How can drivers and pedestrians take precautions to avoid accidents like these?
Pedestrian Safety Tips
There is some important safety information to keep in mind when you are traveling by foot. The recent Philadelphia accidents suggest that pedestrians are at risk of being injured or killed by automobile traffic. In fact, according to the Centers for Disease Control and Prevention (CDC), "people who travel by foot, wheelchair, stroller, or similar means are among the most vulnerable users of the road." In 2010 alone, more than 4,200 pedestrians died in traffic-related accidents, and about 70,000 pedestrians suffered injuries.
Are some people at greater risk than others? According to the CDC, teens and young adults, aged 15-29 years old, are more likely to be involved in pedestrian accidents than other age groups. Of the younger people in that age group, more male pedestrians are killed or injured.
***Very young children are at particular risk of being the victims of such accidents because of their "small size, inability to judge distance and speeds, and lack of experience with traffic rules." Indeed, about 25 percent of all deaths of children aged 14 and under are actually pedestrian fatalities, according to the CDC.
What can you do to prevent a pedestrian accident? The Highway Safety Research Center (HSRC) at the University of North Carolina emphasizes that pedestrian safety lies with both drivers and foot travelers alike.
What can you do if you're a driver?
The HRSC provides some safety tips for drivers:
Always be on the lookout for pedestrians - especially at night;
Drive slowly and be ready to stop at a crosswalk area;
Always stop for pedestrians in a crosswalk;
Do not pass other cars that have stopped to allow pedestrians to cross;
Pay special attention to pedestrians when you make a turn;
Pay special attention to pedestrians in designated areas, such as schools, parks, and residential neighborhoods.
Pedestrians should also keep some safety tips in mind:
Do not walk in restricted zones (such as highways);
Always use sidewalks and crosswalks when they're available;
Wear light or reflective clothing at night;
Do not drink alcohol or take drugs—you might not be able to walk safely or pay attention to cars on the road if you are impaired;
Keep an eye out for oncoming traffic at all times.
If you have been injured in a pedestrian accident, you may be eligible to seek financial compensation. You should contact a pedestrian accident attorney to learn more about your rights.