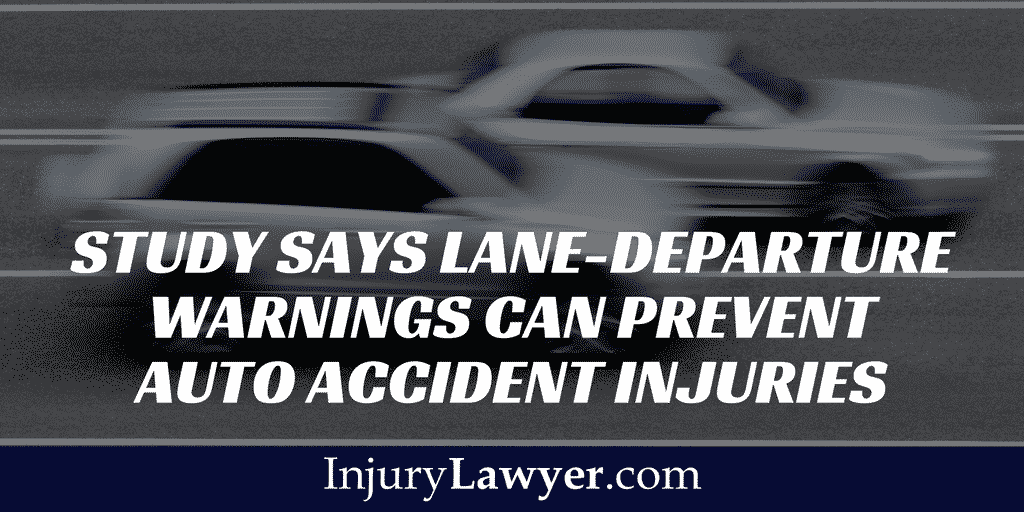 Recent IIHS Study Indicates Lane-Departure Warnings May Prevent More than 80,000 Collisions
Do you have a lane-departure warning system in your automobile? This technology may be able to significantly reduce the rate of injuries after a car accident or collision, according to a recent study conducted by the Insurance Institute for Highway Safety (IIHS). An article in Consumer Reports discusses the study and its implications.
Many of us know that automobile technology can help prevent traffic collisions and auto accident injuries, but we may not realize just how impactful lane-departure warning systems can be. The IIHS study suggests that "if all U.S. passenger vehicles were equipped in 2015 with a lane-departure warning system, nearly 85,000 crashes and more than 55,000 injuries would have been prevented that year." Those numbers should be staggering to anyone who thinks carefully about motor vehicle collisions and the risks of injury after a car accident. This technology could prevent tens of thousands of deaths every year, and even more collisions and auto accident injuries.
According to Jessica Cicchino, who serves as the IIHS vice president for research, a large number of deadly highway accidents currently involve at least one vehicle drifting from its lane. As you might imagine, lane-departure collisions and resulting auto accident injuries often result from a variety of negligent behaviors behind the wheel, including but not limited to:
Drowsy driving;

Impaired driving; and

Distracted driving.
The IIHS emphasizes that lane-departure systems can help prevent many of these kinds of crashes. When it comes to single-vehicle accidents, side-swipes, and head-on accidents, lane-departure warning systems reduce those crashes by about 11%. These systems prevent even more auto accident injuries in those kinds of collisions. The IIHS found that lane-departure warning systems can prevent about 21% of injuries in these particular types of accidents.
Getting the Facts About Auto Accidents and Injuries
The news about lane-departure warning systems is good given that the IIHS also found that a large percentage of drivers are interested in the technology, and many already are purchasing vehicles with it installed. It also may prevent large truck crashes.
What else do you need to know about car accidents, associated injuries after a car accident, and their frequency? The following facts come from a U.S. Centers for Disease Control and Prevention (CDC) fact sheet:
Drunk driving, or impaired driving, results in more than 10,000 auto accident fatalities each year;

Impaired driving accounts for more than 30% of traffic deaths;

Excessive speed is a factor in nearly 30% of all motor vehicle crash fatalities; and

Of all high-income countries, the United States not only has the highest number of car accident deaths (10.3 per 100,000 people), but it is almost double that of New Zealand, which has the second-highest number of motor vehicle crash fatalities (5.6 per 100,000).
Hopefully, lane departure warning technology can help reduce the number of auto accident injuries and collisions that occur. In the event that you or someone you love sustained injuries in a motor vehicle collision, you should discuss your case with a car accident lawyer to learn more about your rights.