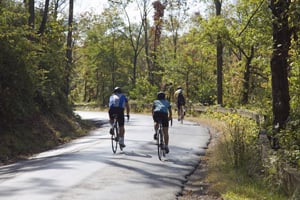 New Jersey Bicyclists Face Serious Road Risks
According to a recent article in the Daily Record, when we look at all 50 states, New Jersey has the second-highest percentage of fatal auto accidents involving bicyclists or pedestrians. In 2012, nearly 29 percent of all fatal collisions resulted in the deaths of bicyclists or pedestrians. By 2014, that number had risen to 32.4 percent, according to records from the New Jersey State Police.
Why is the rate of deadly pedestrian and bicycle accidents so high in New Jersey? One of the reasons could be that the state "is one of 17 states in the nation and the only one among Northeast and Middle Atlantic states that doesn't offer any roadside protection for bikers," the National Conference of State Legislatures reported. However, there are bills currently pending in the New Jersey Legislature that would increase protection for bicyclists.  For instance, one such pending bill would "make it a violation, with a fine up to $500, for not giving four feet of space to bicyclists, people in wheelchairs, road workers, and other legal pedestrians."
The lack of bicycle safety laws might not be the only reason for the high number of bicycle related fatalities in New Jersey. There is a significant problem with helmet usage and protective gear. "Of the 58 people who died in bicycle accidents from 2010 through 2013, just four were wearing helmets." When you do the math, only seven percent of bicyclists involved in those fatal crashes decided to wear helmets. The statistics for protective gear were even worse. "Only one of the riders was wearing reflective equipment or clothing," and "none had lighting." New Jersey law currently does not require bicyclists aged 17 and older to wear helmets when they are riding.
Bicycle Accident Prevention
According to the Centers for Disease Control and Prevention (CDC), bicyclists are at greater risk of being involved in a fatal traffic collision than are motor vehicle occupants. Given that cyclists have much less protection than passengers in an automobile, it is not surprising that they are at greater risk of serious and deadly injuries when a traffic collision occurs.
How can bicyclists stay safer on the road? The CDC recommends the following to help prevent bicycle-related fatalities:
Always wear a bicycle helmet, even if it is not required by law!
Wearing a helmet drastically reduces your risk of sustaining a traumatic brain injury (TBI) in the event of an accident.
You should buy a properly fitted helmet that has been approved for protection by the DOT.
Always remember that no matter where you live, your children are required by law to wear a helmet any time they ride a bike.
Always wear protective gear and make yourself visible to automobile drivers.
Even if you are riding during daylight hours, it is important to wear light-colored, fluorescent, or reflective clothing.
At night, retro-reflective clothing can help to make you more visible to drivers.
Do not forget about installing lights on your bicycle. You should have white lights in the front and red lights in the rear.
If you or someone you love has been injured in a bike accident, you should contact an experienced bicycle accident attorney. You may be eligible to seek financial compensation for your injuries.