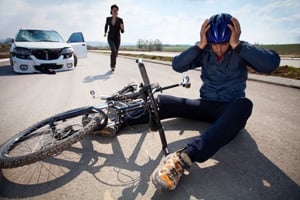 Bike-Vehicle Crash Reports Can Help Improve Safety
According to a recent article in Common Health, it is important to understand precisely how bicycle accidents happen in order to take large-scale steps to prevent them in the future. As such, Anne Lusk, a research scientist at the Harvard School of Public Health worked with a number of her
colleagues to issue "a blueprint of sorts for improving bike-vehicle crash reports produced by the police." According to Lusk, bettering these reports could be a key to helping city planners and private businesses create "safer cars and safer bike environments."
Lusk and her colleagues closely examined "hundreds of hopelessly low-tech police reports used to record bike accidents," which led them to realize that the police could be doing a lot more to improve the data surrounding the causes of bicycle crashes. For example, Lusk examined one particular crash report that simply had a drawing of "two vehicles." The report briefly identified one of those vehicles as a "pedal cyclist," but it provided no additional information about how the rider was struck by the car or where the impact occurred.
Given the limited information in these reports, the group's findings emphasized that "it's time for a major upgrade." Lusk and her team "are making a nationwide plea" to police officers across the country who respond to bicycle accidents. What do they want? To begin with, police officers should "step into the modern era and improve reports on crashes involving vehicles and bicycles." Most bike accident reports, regardless of the technology available to the police department as a whole, are "handwritten and drawn by police on paper, with few bicycle-specific codes or diagrams."
Lusk and her team want officers to improve their crash reports by detailing data that can easily be entered into spreadsheets and used for future prevention analysis. Specifically:
Use electronic tablets when creating accident reports;
Have dropdown menus available in those standard reports with specific codes related to bike-vehicle accidents; and
Use vehicle/bicycle codes to denote, among other factors, "whether the bicyclist was riding inside a painted lane when hit, or whether the cyclist crashed into a driver's open car door, etc."
Bicycle Accident Safety and Statistics
Over the last decade, the National Highway Traffic Safety Administration (NHTSA) reported that the total number of bicycle commuters increased by more than 60 percent across the country. These numbers are particularly high in major urban areas, such as New York City and Philadelphia. While commuting to work can save on gas money and can limit environmental damage—not to mention that it can be a great form of exercise—it also comes with serious risks of accidents. In fact, NHTSA reported a rise in bicycle-related fatalities in 2012, with 726 bicyclist deaths and approximately 49,000 injuries.
In addition to urging businesses and cities to take important steps to make cycling safer, bicyclists can also take preventative measures. The Centers for Disease Control and Prevention (CDC) recommends some of the following safety tips for bicycle commuters:
Wear a properly fitted, DOT-approved helmet each time you ride your bike;
Make yourself visible to automobile drivers by wearing fluorescent or retro-reflective clothing, and by using active lighting on your bicycle;
Ride in bicycle lanes when they are available;
Ride with the traffic and follow the rules of the road;
Never ride on sidewalks; and
Stay vigilant about turning cars or any road debris that could cause an accident.